You've been rocking the same hairstyle since your 20s and while you've aged gracefully, your haircut hasn't. Now that you're in your 50s, it's time for an upgrade. You want a style that's stylish yet age-appropriate, one that complements your features and lifestyle.
The good news is there are plenty of classic cuts that look gorgeous on women over 50. Whether you want to chop it all off into a pixie, add some layers for volume and shape, or just make a few subtle changes to your current style, you have options. These 10 timeless hairstyles are flattering, low-maintenance, and will make you feel as vibrant and chic as ever.
It's time to find a cut that celebrates this new chapter. After all, 50 is the new 30, right ladies? Choose a hairstyle you love and embrace getting older with style and grace.
Hairstyles for the Modern Woman Over 50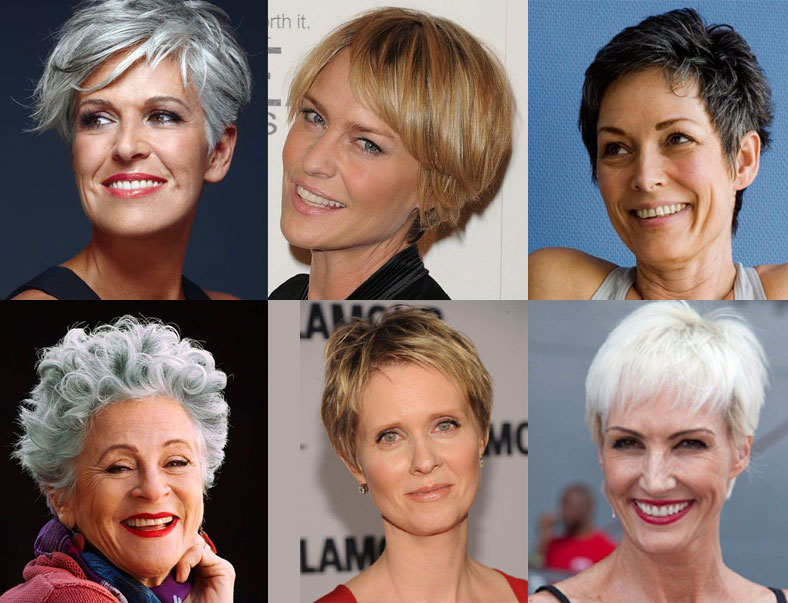 1. The Classic Bob: A Timeless and Flattering Cut
The classic bob is a timeless hairstyle that flatters women of all ages. For the over 50 set, a bob cut around chin-length or slightly longer can take years off your face by drawing attention to your best features.
Layers Add Volume
Adding long, choppy layers gives a bob volume and height, preventing it from appearing too flat. Layers that start below the ears and frame the face are especially flattering for mature women. Ask your stylist for "long layers" and "face-framing layers."
Consider a Side Part
A deep side part is an easy way to give a bob some asymmetry and make it appear more modern. Have your stylist part your hair on the side you normally do, but go deeper towards the back of your crown. A side-swept bang or piece-y fringe paired with a side part also helps soften facial features as you age.
Include Subtle Highlights
Subtle highlights around the face help create depth and dimension for a flattering bob. Ask your colorist for "face-framing highlights" or "subtle highlighting" around the front and sides. Highlights that are slightly lighter than your natural base color produce a very natural sun-kissed look.
Add Styling Products
To get the most from your bob, be sure to use quality styling products that add volume and shape. Apply a mousse at the roots before blow drying for lift at the crown. Use a medium or high hold spray to keep your bob in place and a serum to reduce flyaways. A spritz of dry shampoo at the roots also helps revive volume on non-wash days.
With the right cut, color, and styling, a classic bob can be the perfect hairstyle for women over 50 looking to appear youthful yet age-appropriate. Low maintenance but high style—what more could you want?
2. Shoulder-Length Layers: Easy Movement and Volume
The shoulder-length cut with layers is a timeless style that flatters women of all ages. It's the perfect compromise between short and long, giving you maximum versatility and ease of styling.
Movement and Volume
Shoulder-length layers add shape and movement, preventing flatness. They also create volume at the roots for a youthful, voluminous look. With a few quick sweeps of a round brush, you can coax your layers into soft waves or bend the ends under for a casual curled style.
Low Maintenance
This cut grows out gracefully and needs fairly minimal upkeep. You can go several weeks between cuts without it looking shaggy. It's also quick and easy to style, whether you want to wash and go, blow it out, or create loose curls. With the right products, you can lengthen the time between washes too.
Flattering for All Face Shapes
Shoulder-length layers are universally flattering. They balance out square or round faces, soften strong jaws, and complement oval faces. Side swept or parted bangs also work well with this style and help enhance certain face shapes.
Options for Thin or Thick Hair
This cut works for all hair densities. For fine hair, add extra layers for fullness and volume. Keep ends blunt for thicker hair, with fewer layers. Either way, shoulder-length hair with layers remains an effortlessly stylish choice for the modern woman over 50.
3. The Pixie: Short and Sassy
The pixie cut is a classic, sassy style for women of any age, but it's especially flattering for mature women over 50. A pixie draws attention to your eyes and cheekbones and can make you appear more youthful. It's also an easy, wash-and-go cut that doesn't require a lot of fussing or styling.
To get a pixie cut, ask your stylist for a short crop that's tapered at the sides and back, and longer on top. The longer top section allows for flexibility in styling. You can sweep it to the side for a windblown look, spike it up a bit with product for an edgy style, or simply finger comb it for a casual, messy finish.
Some tips for rocking a pixie cut:
Find a stylist experienced with cutting short hairstyles. They can determine the right pixie length and shape for your face and hair type.
Be prepared for more frequent trims, around every 4 to 6 weeks, to maintain the shape and style.
Invest in a few styling products like a lightweight pomade, texturizing spray, and hair wax or clay. They will allow you to quickly change up your look from day to day.
Play around with different part placements. A deep side part can be very flattering for a pixie cut. You can also style it with no part for a "choppy" look.
Accessorize! Scarves, hair clips, headbands, and hair jewelry allow you to dress up a pixie cut in seconds.
A pixie cut requires little effort but still needs some TLC. Use a moisturizing shampoo and conditioner and limit washing to every other day or so. Style with a blow dryer and round brush to add lift at the roots.
Whether you want an easy, fuss-free style or a cut that makes a statement, the pixie checks all the boxes. Flirty, feminine and forever stylish, this versatile cut is a timeless choice for the modern woman. Short hair, don't care! A pixie cut says you're confident, bold and not afraid of change.
4. The Shag: Lots of Choppy Layers
The shag cut is a bold, edgy style that adds lots of choppy layers for maximum volume and texture. This cut allows you to embrace your natural waves or add some stylish messy curls. The shag cut is perfect for women over 50 looking to freshen up their style without going too short.
Lots of Choppy Layers
The key to a shag cut is uneven, choppy layers that create a stylishly messy finish. Ask your stylist for a cut with shorter layers on top that get progressively longer towards the bottom. This helps create height at the crown while keeping length in the back. The choppy layers will thin out thicker hair and add volume to fine hair.
For naturally straight or wavy hair, add some tousled texture with sea salt spray, mousse, or texturizing spray. Scrunch into damp hair and let air dry for a carefree, undone style. For curls, apply a curl cream and diffuse dry while scrunching for a stylish curly shag. Finish with a spritz of hairspray to tame flyaways and keep your new choppy layers in place.
The shag cut works for most face shapes and hair textures. The uneven layers help balance out round faces while the volumizing effect slims and lengthens oval and rectangular faces. Adding side swept bangs or longer face framing layers in the front softens the shag cut and complements square jawlines.
Some things to keep in mind:
•Ask for a "longer shag" if you want to keep more length. A longer shag with layers starting below the chin provides the same messy texture without losing too much length.
•Shags typically require more frequent trims, around every 4 to 6 weeks, to maintain the choppy layers and style.
•Shags can be high-maintenance and often require the use of styling products and heat tools to achieve the signature messy, undone look. Be prepared to spend some time styling your new shag cut.
•Shags tend to work best on hair with some natural texture and wave. Very straight, fine hair may require more effort to style and hold the messy, choppy layers.
The shag cut is a bold yet low-maintenance style that adds lots of attitude and edge. For women over 50 looking to freshen up their hairstyle, a stylish shag cut with choppy layers is a classic choice.
READ ALSO: Trending Cowboy Copper Hairstyles
5. The Long Layers: Flowy and Feminine
The long layers hairstyle is a timeless, feminine look that flatters women of all ages. This style features layers that start below the chin and flow down past the shoulders, with subtle layering throughout the mid-lengths and ends. The layers add volume, movement and shape without sacrificing length.
Styling Long Layers
Long layers are versatile and easy to style in many ways. On some days you may want to emphasize the layers with loose, flowing waves. Apply a wave or curl enhancer to damp hair and scrunch with your hands as you blow dry, or use a large barrel curling iron. On other days, long layers can be brushed smooth and straight for a sleek look. Add a serum to damp hair before blow drying to reduce flyaways and boost shine.
For extra volume at the roots without teasing, try a volumizing mousse or spray. Apply it to damp roots before styling as usual. You can also get loose, undone-looking waves using foam rollers, rag curls or bendy rollers on damp hair. Let hair air dry and unroll for effortless, flowing locks.
Low Maintenance
The key benefit of long layers is that they require minimal upkeep. Trim the layers every 6-8 weeks to remove split ends, but otherwise this style grows out nicely. Long layers are also easy to pull back into a loose updo or ponytail when you want your hair out of the way.
This hairstyle complements an oval, heart-shaped or long face. The layers add softness around the face, balancing sharp features. They also give the illusion of width to a long narrow face. For fine or thinning hair, long layers create volume and the appearance of fullness.
Whether you want an easy, low-key style or a more glamorous look for a special occasion, long layers offer flexibility and femininity for the modern woman seeking an ageless hairstyle. With some enhancements to your hair care and styling routine, long layers can take years off your appearance and leave you feeling youthful and chic.
6. The Blunt Cut: Thick and Heavy
The blunt cut is a bold yet timeless style that suits women over 50. This simple cut has minimal layering, allowing your natural hair texture to shine through. It requires little effort but makes a statement, perfect for the low-maintenance yet fashionable woman.
Low Maintenance
A blunt cut needs little more than a quick trim every 6-8 weeks to maintain its shape. Without layers to fuss over, styling is simple. Wash and go, scrunch in some product to bring out your hair's natural wave or texture and you're done. On lazier days, pull it back into a ponytail or bun. The thick, blunt ends ensure your style will still look polished.
Versatile
While simple, the blunt cut is versatile enough to suit any occasion. Dress it up for work with a stylish headband or hair clip, or wear it down for a casual weekend look. When going out, amp up the volume with hot rollers or a blowout and you'll turn heads. This cut shines with minimal effort but handles glamor equally well for an all-purpose hairstyle.
Flattering for All Face Shapes
The blunt cut is universally flattering, complementing oval, round, square and heart-shaped faces alike. The weighty, chin-length ends help balance wider face shapes, while softening sharp angles on square faces. For oval faces, a blunt cut at the jawline or just below helps create the illusion of width. On a heart-shaped face, a blunt cut grazing the shoulders helps add width at the jawline.
Whether you want an easy, fuss-free style for everyday or a versatile cut to take you into evenings out, the blunt cut is a timeless choice for the low-maintenance yet fashionable woman over 50. Simple yet statement-making, this cut lets your natural beauty shine through at any age.
7. The Soft Bangs: Face-Framing and Flirty
Soft bangs are a timeless style that flatters women of all ages, but they're especially lovely on mature women looking to soften their features. Wispy, layered bangs that gently frame the face have an eternally youthful and feminine feel. They draw attention to your eyes while subtly camouflaging wrinkles and age spots on the forehead.
Style Options
There are many versions of soft bangs to suit different face shapes and personal styles:
Side-swept bangs: Longer bangs swept off to one side. Flattering for most face shapes and easy to style. You can switch the direction you sweep them for variety.
Choppy bangs: Uneven, roughly cut bangs for an effortless bedhead look. Best for oval and heart-shaped faces.
Curtain bangs: Longer bangs parted in the middle. A breezy, bohemian style that complements round and square face shapes.
Tapered bangs: Bangs that are shorter in the center and gradually get longer towards the sides of the face. A versatile style with a tailored yet natural appearance. Complementary for most face shapes.
How to Style
The key to soft bangs is keeping them loose and touchable. Avoid a stiff, sprayed style. After washing and towel drying your hair, do the following:
Apply a pea-sized amount of hair cream, mousse or oil to your damp bangs. Massage it in with your fingertips.
Blow dry your bangs while sweeping them side to side and brushing them downwards using a round brush. Keep the blow dryer on a medium heat setting.
Once your bangs are dry, run a comb through them to detangle. Then use your fingertips to gently sweep them off to one side, part them in the middle or leave them hanging straight down – whatever look you prefer!
For extra volume and movement, twist sections of your bangs in different directions and mist with hairspray. Finger comb to loosen the twists.
Touch up your bangs as needed in between washes using a dry shampoo or texturizing spray. Bangs tend to get oily faster, so freshening them up will prevent a limp, greasy look.
Soft bangs are playful and feminine without being over the top. They highlight your natural beauty and grace that comes with age. Try them – your face will thank you!
8. The Textured Lob: Touchable Mid-Length Style
The textured lob is a stylish and versatile hairstyle for women over 50. This mid-length cut with choppy, uneven layers adds volume and shape without the hassle of long locks.
Low Maintenance
A lob requires minimal effort but still looks polished. Air dry or quickly blast with a blow dryer and you're ready to go. The uneven layers create a casual, messy texture that is meant to be tousled and touched. Fussing over styling is not needed! Adding subtle highlights or balayage color will enhance the choppy layers and require even less maintenance.
Flattering for All Face Shapes
The lob flatters every face shape by drawing attention to the eyes and cheekbones. For round or square faces, longer side swept bangs help create an oval shape. On heart shaped faces, choppy layers around the jawline balance out a narrow chin. Diamond faces benefit from height at the crown and width around the ears. An oval face looks great with a center part and even layers.
Versatile Styling
Though low-key, the textured lob offers versatility. For a casual daytime look, scrunch in a styling product and air dry. At night, blow dry while flipping your head upside down to boost volume at the roots. When you want to dress it up, straighten the layers smooth and tuck one side behind your ear. You can also pin up random sections for an undone updo.
Timeless Appeal
The lob has endured for decades due to its timeless chicness and ease. Celebrities like Julianne Moore, Viola Davis, and Kate Winslet have rocked stylish lobs at every age, proving this cut is truly ageless. A well-shaped lob frames the face in a flattering way and conveys a stylish, confident image for women of all ages.
If you're looking for an effortless yet stylish hairstyle that is perfect for the modern woman over 50, the textured lob is an excellent choice. Low maintenance, versatile and universally flattering, this chic mid-length cut will make you feel as fabulous as you look.
Classic Haircuts for Women Over 50 FAQ
A lot of questions come up when considering a classic hairstyle after 50. Here are some of the most frequently asked questions and answers to help guide you.
Will short hair make me look older?
Not at all. Short hairstyles can actually take years off your face by drawing attention to your best features. Styles like pixies, bobs, and shags are flattering and stylish at any age. The key is choosing a cut that complements your face shape and hair texture. Shorter styles also tend to be more low-maintenance, which many women over 50 appreciate.
Do I have to go gray to look stylish after 50?
Dyeing your hair is a personal choice. Going gray naturally can be stylish, but so can dyeing your hair. The most important thing is choosing a color and style you feel comfortable with. Subtle, natural-looking highlights or lowlights are a great way to blend in gray hair while adding dimension. You can also choose shades that are close to your natural color for a blended, multi-tonal effect.
Will longer styles make me look frumpy?
Long hairstyles can absolutely be stylish after 50 with the right cut and styling. Long bobs, shags, and layers provide movement and shape for longer hair. Styling longer hair with loose waves or curls also prevents a "frumpy" look.
The key is keeping long hair healthy and well-conditioned, and getting regular trims to remove split ends. Longer styles may require more styling and product to prevent looking unkempt, so keep your personal styling routine and preferences in mind.
Do I need special products for mature hair?
Mature hair does have different needs, so using quality products formulated for aging hair is beneficial. These products typically contain hydrating ingredients to combat dryness and breakage, as well as antioxidants to protect hair from environmental damage.
They may also contain volumizing ingredients to boost body and fullness. Some highly-rated product lines for mature hair include Pantene Expert Collection, L'Oréal Age Perfect, and Redken Cerafill. Using a moisturizing mask once a week and a leave-in product can also help keep mature hair looking its best.
In the end, the most stylish hairstyle is the one that makes you feel confident and reflects your unique personality. Don't let preconceptions about age hold you back from a cut or style you love. With the right haircut and products tailored to your needs, you can achieve a classic and ageless style after 50.
Conclusion
You've seen 10 timeless hairstyles that will make you feel as vibrant and stylish as ever, regardless of what the calendar says.Don't let outdated societal conventions or expectations define your style or make you feel less than.
You have earned every laugh line and gray hair through a lifetime of wisdom, experience, and cherished memories.Celebrate the woman you have become by choosing a hairstyle that makes you feel confident and radiant.Whether you prefer an easy, wash-and-go pixie or cascading layers of soft curls, now you have some inspiration to take to your stylist.
Ask them to craft a cut and color customized to your unique beauty and personality.You deserve to look and feel your best at any age, so rock your new hairstyle with pride and enjoy this exciting chapter of life without limits or apologies.Age is but a number, after all.The key to timeless beauty and style is simply loving the woman in the mirror.