25+ Purge Makeup Ideas
The Purge movies offer a fascinating dystopian world where all crime is legal for 12 hours once a year. This leads to some terrifying but creative makeup looks as people don their masks and prepare for the lawless night.
If you're looking for some gruesome yet thrilling makeup ideas for your next Purge-themed party or Halloween, read on for 25+ Purge Makeup Ideas, inspirations from the films.
Gruesome and Gory Purge Makeup Ideas
Here are some of the most bloody and creepy Purge makeup ideas inspired by the villains of the films: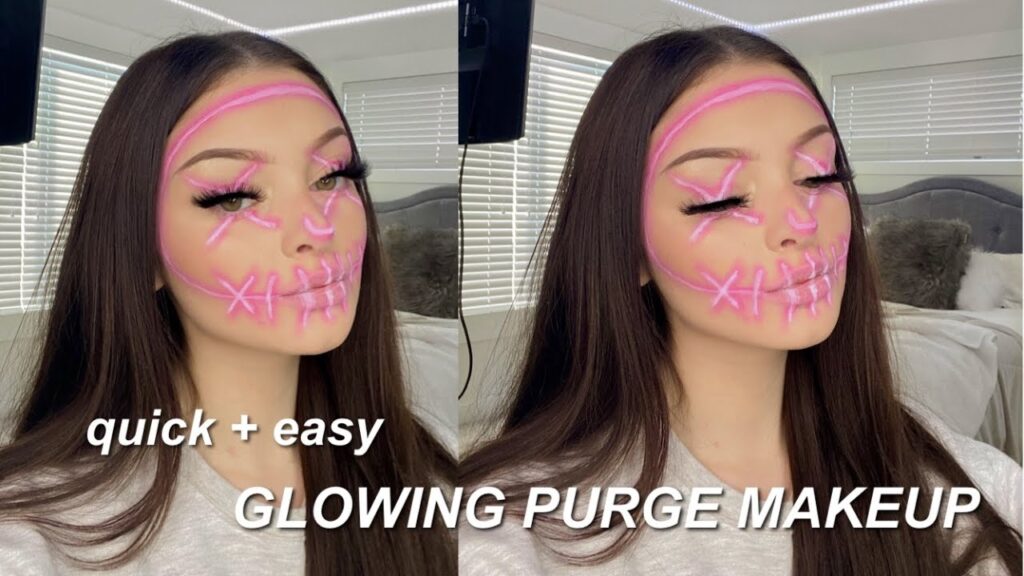 1. Doll Mask
One of the most iconic masks from the series is the creepy doll mask worn by a gang of murderers in the first Purge movie. Paint your face white with a red line for a mouth to get the terrifying porcelain doll look. Add some red around the eyes and on the cheeks for a bloody splash.
2. Skeletal Mask
A skeletal mask is easy to create with some black and white face paint. Paint your whole face white then add dramatic black shading around the eyes and over the nose and cheekbones. Outline the jaw and brows in black as well. Add red accents near the eyes and mouth for a gory touch.
3. Melted Candle Mask
Create a melted candle mask look by painting part of your face to look like dripping wax. Use black and white greasepaint to make part of your face look burned and disfigured. Drizzle red and black streaks from your mouth and eyes for an extra scary touch.
4. Bloody Clown
Clowns are always creepy, and even more so on Purge night. Use white, black, and red clown makeup to create a terrifying and bloody costume. Splatter and streak the white face makeup with red and paint exaggerated black diamonds around your eyes and mouth.
5. Hydrophobic Madman
One unsettling character in The First Purge was a madman afraid of water. Create this look with a plastic poncho, wet hair, and black circles around wild eyes. Paint your face with a thick white coat leaving your mouth free for yelling.
6. Dollface
Paint your whole face white then use black makeup to draw doll-like circle cheeks and exaggerated lashes. Outline your lips thickly in black and add extra lines above the lips reaching up your cheeks for a creepy, stitched look.
7. Bloody Barbed Wire
Use latex prosthetics to make it look like barbed wire is embedded in your face. Paint blood dripping from the "wire" down your face. This shocking look is sure to horrify on Purge night.
8. Torn Face
Look like your face is torn open with this gory makeup idea. Use black and red makeup to make one side of your face look bruised and swollen. Make part of your "skin" look torn off, exposing bloody tissue underneath.
9. Melted Psychopath
Inspired by a villain in The First Purge, make it look like your face is melting off. Cover your face in white cream makeup. Use black and red makeup to make parts of your face look burned, melted and bloody. Leave one eye normal for an extra creepy contrast.
10. Impaled Face
Glue a prop knife or spike to your cheek to mimic an impaled face. Cover your face with blood dripping from the wound. Optionally, add deeper cuts and gashes on your face using black and red makeup.
Mask Ideas for Purge Night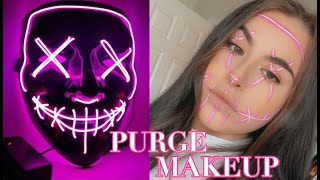 Along with gory makeup, creepy masks are also essential for your Purge costume. Here are some mask ideas inspired by the films:
11. Smiley Face Mask
The smiley face masks worn by the paramilitary Purge troops are easily recognizable. Buy a plain white mask and use black and red paint to create an exaggerated happy face with a large smile and eyes.
12. Year of the Pig Mask
A group of masked college kids wear eerie pig masks in The First Purge. You can buy cheap pig masks and splatter them with fake blood for a creepy costume.
13. Bejeweled Mask
Like upper class revelers in the films, decorate a plain plastic mask with glitter, rhinestones, feathers and beads to contrast with your bloody costume. Add some blood splatters for an extra creepy look.
14. Monster Gas Mask
Some psychos in the movies wear gas masks to conceal their identities. Make your own monstrous version with paint and prosthetics. Attach horns or fangs and add a blacked-out visor.
15. Surrealist Salvador Dali Mask
Take inspiration from the iconic melting clocks of Salvador Dali's paintings. Buy a plain mask and use prosthetics and paint to make the face look melted and surreal.
16. Plague Doctor Mask
Evoking the plague doctors of medieval times, this bird-like mask is creepy and mysterious. Buy a cheap version online or make your own out of cardboard, tape and black fabric.
17. Bloody American Flag Mask
Nothing says anarchy like a defaced flag. Buy a plastic flag mask and use red and black paint or makeup to make it look dipped in blood.
18. Creepy Doll Mask
Like the iconic doll mask from the first film, find a creepy porcelain doll and create a mask from its horrifying face. Attach elastic and paint with fake blood.
Makeup for Purge Surviving Heroes
To switch up your look, you can also do makeup to portray heroes surviving the Purge:
19. Bloody Hero
Paint half your face covered in realistic bruises and bloody cuts. Make it look like you fought off an attacker but are still ready to survive the night.
20. Torn Clothing
Shred your shirt and coat the edges in dirt and fake blood to look like you barely escaped a violent mob. Add bruises and scraped skin for a battle-weary survivor look.
21. Anti-Purge Protester Face
Paint part of your face with the American flag to portray an anti-Purge protester. Add paint that looks like rubber bullet wounds and dark circles around your eyes.
22. Resistance Fighter
With camo paint, fake dirt and blood, you can get the guerilla look of someone fighting back against the Purge. Make it intense but not too gory so people recognize you're a good guy.
23. Determined Protector
A hero protecting loved ones on Purge night needs bravery and determination. Use makeup to make intense, furrowed brows and battle-ready eyes. Add some blood splatter from fending off attacks.
YOU MAY LIKE: Smokey eye makeup tutorial
Creative Purge Makeup Ideas
Here are some more unique and creative ideas for Purge makeup:
24. Purge Propaganda
Paint an unsettling Purge propaganda slogan like "Blessed be the New Founding Fathers" on your face or forehead. Bloody handprints also add to the chilling vibe.
25. Futuristic Cyber Purge
With silver makeup and LED lights, you can portray a villain from a more futuristic Purge night. Add black grease paint for robotic lines and a high-tech mask.
26. Glowing Eyes
In the dark streets on Purge night, imagine how creepy glowing eyes would look peering from the shadows. Get glow-in-the-dark contacts and paint a simple mask to complete the ominous look.
27. Jack-o-lantern Mask
Light up a hand-carved jack-o-lantern mask for a creepy and crafty disguise. Use one with dramatic triangular eyes and a menacing grin.
28. Bloody Chessboard
Paint a chessboard design on your face and add red and black "blood" splatters for an artistic statement on how the Purge turns people into pawns.
29. Tarot Card Makeup
Paint a large tarot card like the Death card on your face as an omen of the violence to come. Include the eerie figure and some bloody embellishments.
YOU MAY LIKE: 10 Makeup Tips to Make You Look 10 Years Younger
So unleash your disturbing creativity and try some of these Purge makeup ideas for a thrilling costume this year. The creepier and more intense, the better!
Just take appropriate safety precautions if you're headed out into the real world and not just a Purge party. Anything covering your full face should allow adequate airflow and vision. Avoid any chemicals or prosthetics that could irritate your skin or eyes.
Test out your chosen makeup look a few times in advance and make sure it's comfortable to wear for hours. Bring makeup remover and cleansing wipes to get it all off easily after your night of horror.
With the right dramatic Purge makeup, you can immerse yourself in the frightening world of the films. Show off your disturbing dystopian inspiration and creep out your friends or random passersby.
conclusion
The Purge film franchise has inspired many thrilling and unsettling makeup ideas for fans to recreate. As you can see from these 25+ suggestions, there is great creative potential whether you want a gory, masked villain look or a battle-ready hero aesthetic.
Special effects makeup allows you to transform into a truly creepy character from the Purge universe. Combine dramatic costumes, props, and acting to fully embrace the disturbing dystopian world for a night.
Just always maintain some perspective when portraying violent characters. Stay safe and responsible so your Purge makeup provides fun scares, not real harm.
Follow appropriate laws and restrictions in your area on costumes and props in public spaces. Only participate in Halloween activities that you feel comfortable with.
With the right precautions, Purge-inspired makeup can provide lots of thrilling memories. Embrace your inner madness and creativity to come up with your own iconic Purge look. Just be ready to wash it all off when the sirens signal the end and order is restored once more.
FAQS
How to purge face paint?
To purge face paint, use a gentle cleanser or makeup remover to wipe away all traces of the paint from your skin. Apply the cleanser with cotton balls or makeup removing wipes and rinse well with warm water.
How to do skull makeup?
To do skull makeup, paint your entire face white with a face paint palette or white makeup. Then, use black or gray paint to draw on details like eye sockets, nose, teeth, and jawline to outline the skull shape. You can also add cracks or designs afterward.
How to look dead for Halloween?
To look dead for Halloween, apply pale white or greenish white face paint all over. Brush black or dark gray eye shadow under your eyes and around your nose, mouth, and temples to mimic shadows. You can also add fake blood for cuts or wounds. Leave your lips a pale color and don't move much for maximum effect.
How to do zombie makeup easy?
To do easy zombie makeup, apply white or green-tinged face paint and smudge black or gray eye shadow under your eyes, around your nose and mouth. Add peeled-back skin with red face paint brushed over the white in patches. Draw slashes with dark or bright red face paint and smear a bit to look like cuts.
Why do people wear skull makeup?
People wear skull makeup for Halloween costumes or as part of the "skull aesthetic" fashion trend. The skull symbolizes death, the macabre, and inner darkness. It makes a striking and memorable Halloween look that is easily recognizable as a skull.
How do you paint your face like a skeleton?
To paint your face like a skeleton, apply a thick coating of white face paint to your entire face and neck. Then, use black face paint to draw the shapes of the skull bones like eye sockets, nose, teeth, and jawline. You can add detailed cracks radiating from the eyes and temples as well. Finish by drawing or outlining the spine and ribcage.
How do you make zombie clothes look dirty?
To make clothes look dirty like a zombies, rub tea bags or coffee grounds onto the fabric and let it sit to stain. You can also use makeup like grays, browns, and greens blended into the fabric. Draw or rub on fake blood stains and rub the makeup in well. Tear or cut holes in strategic places and smear or rub dirt on the clothes and layers underneath to look truly grimy.
How to look like a realistic zombie?
To look like a realistic zombie, choose torn or weathered clothing covered in realistic fake blood, dirt and grime. For makeup, use greens, grays and browns blended onto the skin and deeper shades brushed into any wounds. Smear makeup messily and don't forget the backs of hands and arms. Add protruding intestines or bones using materials like surgical tubing painted flesh tones. Stagger and move slowly with glassy eyes.
How to make fake zombie skin?
To make fake zombie skin, mix latex or silicone with green, brown and gray paint to create flesh tones. Spread thinly onto clothing or props using plastic spoons or knives. For sores, cuts or wounds, use red paint or fake blood applied thickly and textured with modeling tools or your fingers. Let dry completely before applying carefully onto the skin with a sponge or brush.
Is it OK to wear sugar skulls?
It is generally OK to wear sugar skulls as part of Halloween or Day of the Dead costumes or artwork. However, some people feel sugar skulls specifically reference Mexican heritage and traditions, so wearing them could be seen as culturally insensitive without proper context or understanding. As with any cultural symbol, learning about its origins and meaning can help avoid unintended disrespect.
Is it OK to dress up as Day of the Dead?
Many feel that dressing up as aspects of Día de Los Muertos/Day of the Dead for Halloween or general costume reasons could be seen as culturally appropriative since it's part of meaningful Mexican traditions. However, some believe colorful face paint and Calaveras can be respectfully incorporated into Halloween with cultural understanding. Overall, it depends on how it's done – avoiding stereotypes while recognizing the holiday's cultural importance to Mexican communities. Consult Latino voices to learn more perspectives.
What is the skull aesthetic called?
The aesthetic trend incorporating skulls in fashion, art and decor is often called "dark academia" or "grunge academia." It emphasizes skulls as symbols of morbidity, introspection, and inner darkness alongside vintage-inspired collegiate styles. Some key elements include skulls mixed with plaid prints, turtlenecks, tea dresses, leather jackets, moody color palettes, prints of leaves and botanicals and scholarly, artistic or literary references in a gothic tone.
How to do emo makeup?
To do emo makeup, sweep black or dark gray eye shadow over the entire lid and blend well along the upper lash line. Add a thick ring of black eyeliner all around the eyes and smudge it out to a soft edge. Fill in brows sparsely with brow gel or pencil. Apply several coats of black or dark mascara. To finish, add a touch of pale or rose lip balm or gloss for a flushed look.
How do you do vampire makeup?
To do vampire makeup, begin with a pale all-over foundation. Add bruised purplish or grayish shadows under the eyes and around the nose for a gaunt look. Sweep shimmering white eye shadow on lids and under brows. Deepen eyes further with black eyeliner and mascara. Draw thin blood dripping from the mouth's corners with a bright red pigment. Finish with darkened brows and pale, parted lips. Fake fangs are an optional accessory.
How to make zombie eyes?
To make zombie eyes, start with applying pale or grayish eye shadow all over the lids. Then, smudge dark gray or black shadow heavily under the eyes, bringing it down toward the cheeks in whispy smears. Draw veins in red on top of the pale shadow on the lids using a small brush or pencil. Finish by adding bloodshot effect with pink or red shadow dabbed messily on whites of eyes. Leave eyes looking unfocused for maximum zombie effect.