Everything You Need to Know About Gemini Hair Color
You've been seeing photos of the latest hair color trend all over social media and you're dying to try it out for yourself. The Gemini hair color technique is creating gorgeous dual-toned hair color effects that look completely natural. If you're curious how stylists are achieving these stunning looks, you've come to the right place.
We're going to walk you through everything you need to know to get perfect Gemini hair color at home. From choosing the right tools and hair dyes to mastering the application technique, we've got you covered. By the time you're done reading, you'll be fully prepped to create an eye-catching Gemini hair color style of your very own. Let's get started!
What Is Gemini Hair Color?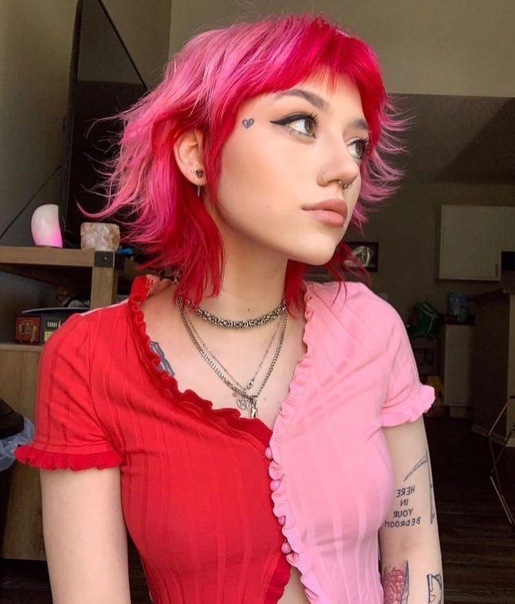 Gemini hair color, named after the Zodiac sign, combines two distinct yet complementary shades for a trendy look. To achieve this bold yet balanced color, here are the steps to take:
First, decide which two shades you want to blend. The key is choosing hues that are contrasting yet still in the same color family, like chocolate brown and caramel blonde, or burgundy red and burnt orange. Pick shades that you feel represent your personality or mood.
Next, section your hair into the areas where you want each shade to be most prominent. Usually, this means separating the top layers from the bottom layers and framing sections around the face. Secure each section with clips to keep them separated as you color.
Then, mix and apply the two dye colors one at a time, starting with the darker shade at the mid-lengths and ends. Remove the clips from the sections you want to remain lighter and apply the lighter dye, blending it up into the darker dye. Distribute the colors evenly for the most natural-looking blend before rinsing out the dye.
Finally, style as desired and show off your new Gemini hair color! With the right color combination and application technique, this trendy dye job can give you an edgy yet balanced look that reflects your multidimensional personality. Rock it with confidence!
How to Get the Gemini Look: Techniques and Styling
To get the Gemini look, it starts with the right base color. Go for an ashy, medium brown shade – think chestnut or mocha. This provides the perfect neutral canvas to build upon.
Once you have the base down, it's time to add subtle highlights. Ask your stylist for fine highlights in a color one to two shades lighter than your base. Have them focus the highlights around your face to brighten things up and create a sun-kissed effect.
To style your new Gemini hair, start by blow drying with a round brush to add volume at the roots while smoothing the mid-lengths and ends. Next, take a one-inch curling iron and wrap random sections of hair, curling away from your face. This will create loose, undone-looking curls and waves.
Finish with a spritz of texturizing spray, scrunching into your curls to enhance their shape and add grit. You can also muss up your roots a bit with your fingers to create height and dimension.
With the right color, subtle highlights, loose curls, and a bit of product, you'll be rocking a casual yet polished Gemini style in no time. Pair it with natural, glowy makeup and you'll be turning heads left and right. Now, go out and show off your fun, flirty new look!
Choosing the Right Gemini Hair Dye and Colors
Choosing a hair dye and shade that complements your natural features is key to achieving the perfect Gemini look. For a natural-looking result that enhances your current hair color, opt for shades within one to two levels lighter or darker. If you have warm undertones, consider golden browns or caramels. For cool undertones, ash browns or chestnuts are a great choice.
When selecting a dye, look for an ammonia-free, semi-permanent formula. These dyes typically last 4 to 6 washes and cause minimal damage since they don't penetrate as deeply into the hair shaft as permanent dyes. Brands like Manic Panic, Arctic Fox, and Overtone offer conditioning semi-permanent dyes in a range of natural-looking shades.
For a bolder look, you can also try temporary dyes, which coat only the outside of the hair shaft and wash out within 1 to 2 washes. Temporary dyes allow you to experiment with vibrant shades like merlot, plum or navy without long-term commitment. When using any dye, do a patch test on your inner arm before applying to ensure you don't have an adverse reaction.
With the right dye and shade for your natural color and undertones, you'll be well on your way to achieving a perfect Gemini style. But remember, the key is enhancing what you already have – don't go overboard with an unnatural-looking color that washes you out or makes you feel like a different person. Your zodiac sign is all about duality, so aim for a shade that brings out both your depth and playfulness.
Maintaining Your Gemini Hair Color
To keep your Gemini hair color looking its best, you'll need to invest in some quality hair care products and adjust your routine.
Shampoo less frequently, around 2-3 times a week. Fading is unavoidable, but shampooing less will help maximize the time between touch-ups. Use a color-protecting shampoo and conditioner formulated for color-treated hair. These are sulfate-free and help seal in color and moisture.
Limit use of heat styling tools which can cause color to fade faster. When you do use them, apply a heat protectant spray. Let your hair air dry as often as possible.
Use a leave-in conditioner, especially on the ends. Leave-in conditioners add moisture and protection. For extra color protection, look for one specifically for color-treated hair.
Limit sun exposure which can fade your new hue. Wear a UV-protective spray, hat or limit the time outside during the peak UV hours of 10 AM to 4 PM.
Get regular trims every 6 to 8 weeks to remove split ends. Split ends can't hold color well and regular trims will prevent fading and keep your ends looking fresh.
Use a color-protecting hair mask once a week. Hair masks deeply moisturize and nourish hair. Look for one enriched with color-locking ingredients like jojoba oil, keratin, and sunflower extract.
By following these tips, your Gemini hair color will stay bright and vibrant for as long as possible before your next salon visit. Maintaining your new color at home is well worth the investment to keep your hair looking its best between color services.
What is the best hair color for a Gemini?
As a Gemini, your fun-loving and adaptable personality is perfect for experimenting with different hair colors. But what shade is most compatible with the Gemini spirit? Consider the following options:
Pastel shades
Light, whimsical colors like peach, mint, lilac or rose gold highlight your playful side. Pastels also give you the freedom to change up your look without a drastic change. These hues embody the Gemini traits of versatility and youthfulness.
Highlights
Adding subtle highlights is an easy way to embrace your energetic and lively nature. Honey, caramel or chestnut highlights warm up your natural hair color without fully committing to a new shade. Highlights also create dimension and visual interest that matches your curious and quick-witted personality.
Balayage
For Geminis seeking a sun-kissed, low-maintenance style, balayage is an ideal technique. Balayage leaves hair looking naturally sun-kissed by sweeping lighter shades through the midlengths and ends. This gives an effortlessly stylish result that complements your casual and carefree spirit.
In the end, the most important factor is choosing a color that makes you feel like your most confident and vivacious self. As a Gemini, you value freedom and flexibility, so go with what puts an extra spring in your step! Whether it's a dramatic new hue or just a few subtle highlights, embracing your fun and flirty side will give you an even more dynamic zest for life.
What is a Gemini favorite hairstyle?
The Gemini zodiac sign is represented by the twins, so it's no surprise that Geminis love change and variety.When it comes to their hairstyle, Geminis like to switch it up. Some of their favorite hairstyles allow them to express their fun and flirty side, as well as their more serious and intellectual side.
Short and sassy
Geminis love a short, stylish cut that's low maintenance but high impact. A pixie cut, choppy bob, or undercut allows a Gemini to be edgy and express their playful side. These cuts also dry quickly and can be styled in a flash when a Gemini is in a hurry. When a Gemini wants to tap into their more serious side, they can slick these short styles back or to the side for a polished look.
Long layers
Long, layered cuts give a Gemini the best of both worlds. Layers add volume and style without requiring a big commitment to length. Geminis can wear long layers wavy and casual for a day out or straighten them for a night out. Half-up styles, messy buns, and loose braids are also go-to's for Geminis with long locks. These styles show off a Gemini's carefree spirit during the day but can also be made dressy enough for an evening look by simply changing up the accessories.
No matter the length or style, the key is options. A Gemini's perfect hairstyle is really many hairstyles in one – short and sassy one day, long and loose the next. As long as there's plenty of room for reinvention, a Gemini will be happy with their mane. Variety is the spice of life for these playful twins!
What is Gemini lucky color?
The lucky colors for Gemini are yellow and green. As an air sign, the vibrant yellow color resonates well with the Gemini vibrant and curious personality. Yellow symbolizes the sun, light and intellect which complements the Gemini traits. Green is also a suitable color for Gemini. Green represents growth, fertility and creativity which stimulates the Gemini versatile mind.
Wearing yellow and green colored clothes or accessories help to boost the Gemini confidence and luck. Having a yellow or green themed home or work space surrounded by these colors create an environment that nourishes the Gemini spirit. Yellow flowers such as sunflowers, daffodils or dandelions and green plants give life to a Gemini living space.
Gemini hair in shades of yellow and green complement the zodiac sign. Golden blonde, honey or caramel highlights on light brown hair radiate the Gemini bright aura. For bolder looks, green tinted hair in emerald, teal or sea green are unique expressions of the Gemini persona. Subtle yellow and green hair accents using ombre, balayage or peek-a-boo techniques blend in well with the Gemini ever-changing style.
While yellow and green are lucky for Gemini, red and blue are less favorable colors. Red signifies aggression and conflict which does not match the Gemini light-hearted spirit. Blue represents stability and conservatism which contradicts the Gemini mutable nature. In general, bold primary colors are too overpowering for the Gemini sensibilities. Gemini vibes well with bright secondary colors in yellow and green.
What is the beauty of Gemini?
The Gemini zodiac sign is represented by the twins, symbolizing a dual nature. Gemini hair color embraces this duality with a multidimensional look that incorporates a fusion of shades.
Highlights and Lowlights
To achieve a Gemini-inspired look, ask your stylist for highlights and lowlights in contrasting tones. For example, add warm caramel highlights around the face to bring light and warmth, then incorporate chocolate brown lowlights throughout the mid-lengths and ends for depth and dimension. The combination of light and dark, warm and cool creates an effect that is varied, vibrant and full of personality—just like a Gemini.
The key to perfecting this technique is placement and balance. Have your stylist concentrate the highlights around your face to draw attention to your best features, then place lowlights sporadically throughout the rest of your hair. Keeping some sections untouched will allow your natural color to shine through, adding even more visual interest. When done well, the overall look appears completely natural—as if you were born with hair that has a mind of its own!
The Gemini hair color is ideal for anyone craving change and excitement. Embrace your inner social butterfly and stop by the salon to see which shades of highlights and lowlights complement your complexion and bring out your fun-loving spirit. You'll walk out with a stylish, multidimensional mane that reflects the lively, engaging essence of the Gemini zodiac sign.
YOU MAY LIKE: Trending Cowboy Copper Hairstyles
Gemini Hair Inspiration: Celebrity and Runway Looks
When it comes to Gemini hair color inspiration, look no further than your favorite celebrities and fashion runways. There you'll find daring yet whimsical looks perfect for the social butterfly Twins.
Scarlett Johansson
ScarJo is a natural Gemini and epitomizes the fun, flirty vibe with her ever-changing hairstyles. From platinum blonde to red hot, she's rocked just about every shade. A favorite look is her tousled, beachy waves in a rose gold shade. To get this look, ask your stylist for long, loose curls and an all-over rose gold balayage.
Katy Perry
No stranger to color, Katy Perry's Gemini spirit is on full display with her hair. One stand-out look features neon pink roots that fade into baby blue ends. This ombre effect would be perfect for Geminis craving a bold, attention-grabbing style. Ask your colorist to lighten your ends and do a vivid pink root shadow that melts into a bright aqua blue.
Versace Runway
Donatella Versace's Spring 2018 show featured models with two-toned hair in complementary colors like cherry red and bubblegum pink or platinum and violet. This split dye look embraces contrast and maximizes options – perfect for the ever-changing Gemini. For your own split dye, pick two fashion shades you love and color the top and bottom sections of your hair in different hues.
Whether you prefer subtle rose gold highlights or neon split dyes, Gemini hair inspiration abounds. Look to stylish celebrities and runways for the latest whimsical and daring looks that embody your fun-loving spirit. Express your dual nature through the art of hair color!
READ ALSO: 10 Hairstyles for the Modern Woman Over 50
Conclusion
You now have all the tips and tricks to achieve the perfect Gemini hair color at home. With the right dye, developer, tools, and technique, you'll be rocking a stylish two-tone hair color in no time. Remember, take it slow and do test strands first before committing to a full dye job. Once you've perfected the application, this bold yet effortless look is sure to turn heads and have people asking where you got your hair done. The best part is being able to say you DIY'ed it yourself! Now get out there and unleash your inner twin – your stylish Gemini mane awaits.
FAQS
What is the best hair color for a Gemini?
There isn't a specific "best" hair color for a Gemini, as hair color preferences vary widely among individuals. Geminis are known for their versatility and adaptability, so they might be open to trying a range of hair colors based on their mood and style.
What is a Gemini hair?
"Gemini hair" doesn't refer to a specific type of hair. Geminis are born between May 21 and June 20, and their hair can come in various colors, textures, and styles, just like anyone else.
What is a Gemini's favorite hairstyle?
Geminis often enjoy changing their hairstyles frequently, reflecting their dynamic and curious nature. Their favorite hairstyle might change with their mood and current interests.
What hairstyle does a Gemini have?
Geminis can have a wide range of hairstyles, from short and spiky to long and flowing, depending on their personal preferences and current trends.
What are 2 colors for Gemini?
Two colors associated with Gemini are yellow and light green. These colors often symbolize the lively, communicative, and adaptable nature of Geminis.
What is Gemini's lucky color?
The lucky color for Gemini is yellow. It is believed to enhance their positive traits and bring them luck.
Do Geminis have cute eyes?
Geminis, like all individuals, have a variety of eye shapes and appearances. Whether their eyes are considered "cute" is subjective and varies from person to person.
How do Geminis dress up?
Geminis typically dress in a way that allows them to express their creativity and adapt to different situations. They might experiment with various styles, mix and match clothing, and keep up with the latest trends.
What is the beauty of Gemini?
The beauty of a Gemini lies in their intellect, charm, and ability to connect with people from all walks of life. Their vibrant personality often shines through and makes them attractive to others.
What color is Gemini?
Gemini is associated with the color yellow, reflecting their lively and communicative nature.
What is Gemini's face?
"Gemini's face" refers to the diverse range of facial features that individuals born under the Gemini zodiac sign can have. There is no specific facial characteristic unique to Geminis.
What is Gemini's skin?
Geminis, like everyone else, can have a variety of skin tones and types. There's no specific "Gemini skin."
What color is Gemini?
The color associated with Gemini is yellow, symbolizing their vibrant and energetic personality.
What is Gemini's flower?
The flower associated with Gemini is the lavender flower. Lavender is often associated with adaptability and open-mindedness, traits that resonate with Geminis.
Can Geminis wear gold?
Yes, Geminis can certainly wear gold jewelry or clothing. The choice of wearing gold, like any accessory or clothing item, depends on their personal style preferences.