Are you seeking advice on how to improve your nail health without the need for pricey salon treatments? Look no further! Our comprehensive guide will provide you with home nail care tips, natural nail strengthening methods, and easy nail beauty hacks that will leave your nails looking fabulous. But first, take a look at this colorful snapshot of what's to come:
It's essential to adopt a holistic approach when it comes to nail care – after all, your nails are a reflection of your overall health. From dietary adjustments to effective daily routines, you'll soon discover how simple steps can lead to stronger, more beautiful nails at home. Ready to embark on your DIY nail care journey? Let's dive in!
Understanding Nail Anatomy for Better Care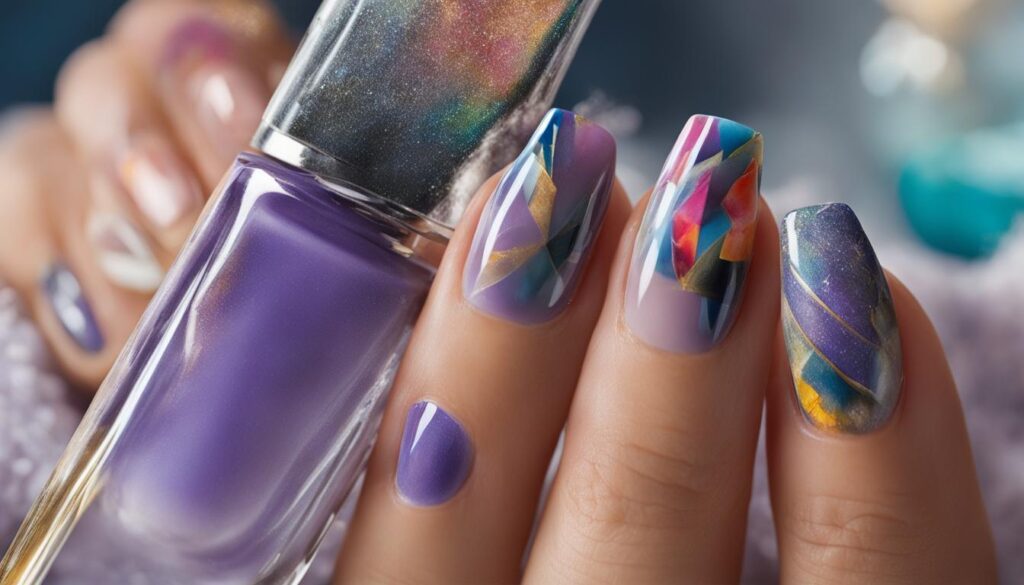 Before diving into nail care basics, it is crucial to develop a solid understanding of nail anatomy. The structure of your nails can provide essential insights into maintaining their health and overall appearance. In this section, we will explore key components of nail anatomy, such as cuticles, nail beds, and nail plates, along with the primary protein, keratin, that makes up our nails.
The Cuticle: This thin layer of skin is located at the base of the nail, enveloping the developing nail tissue. It acts as a protective barrier against bacteria while also sealing in moisture. Proper cuticle care, such as moisturizing and gently pushing them back, helps maintain the overall health and growth of nails.
The Nail Bed: The nail bed lies beneath the nail plate and contains nerves and blood vessels. It plays a significant role in supplying nutrients and oxygen to the developing nail, thus promoting healthy growth. A well-nourished nail bed will result in stronger nails.
The Nail Plate: This consists of the visible, hard exterior of the nail that is composed primarily of keratin, a protective protein. The nail plate starts at the nail root, hidden beneath the cuticle, and grows outward as new cells are formed. Caring for the nail plate involves protecting it from damage and keeping it well-hydrated, ensuring its strength and flexibility.
Understanding the fundamental structure of nails can lead to better nail care practices and help achieve stronger, healthier nails.
Now that you have a basic understanding of nail anatomy, you can begin to incorporate nail care practices that are tailor-made to the unique needs of your nails. For instance, keeping the cuticle moisturized and intact can help safeguard the nail root and promote growth. Moreover, being mindful of the nail plate's fragility and maintaining its hydration will contribute to the durability and flexibility of your nails.
Remember, knowledge about the nail structure, along with consistent and proper care, is essential for maintaining the beauty and health of your nails. By catering to the specific requirements of each component of your nails' anatomy, you can effectively protect them from damage and ensure their overall well-being.
The Importance of a Balanced Diet for Nail Health
A balanced diet plays a crucial role in maintaining overall health, including the condition and appearance of your nails. A nutrient-rich diet provides essential vitamins and minerals that promote strong, healthy nails and prevent malnutrition-related symptoms, such as brittle, discolored, or peeling nails.
To support nail growth and health, focus on incorporating specific vitamins and minerals into your diet. By following dietary tips and adding nutrient-packed foods to your meals, you can achieve and maintain strong, vibrant nails.
Nutrients Essential for Strong Nails
Several essential vitamins and minerals contribute to nail strength and growth. These nutrients play an important role in the functioning of cells, collagen and keratin production, and overall nail health. Some of the key nutrients for healthy nails include:
Biotin: Biotin, also known as vitamin H or B7, helps promote nail growth and strengthen brittle nails.
Calcium: Calcium is vital for nail growth, as it helps develop and maintain bone health, which in turn supports strong nails.
Iron: Iron helps in collagen production and oxygen transport to nail cells, promoting overall nail health.
Zinc: Zinc is essential for cell division, protein synthesis, and nail growth. A deficiency in zinc can lead to brittle and weak nails.
Vitamin E: Vitamin E acts as an antioxidant, protecting cells from damage and improving blood circulation, which can promote healthier nails.
"A balanced diet incorporating the right nutrients is key to achieving and maintaining strong, healthy nails."
Foods to Incorporate into Your Diet
To ensure your body receives the vitamins and minerals it needs for optimal nail health, include the following nutrient-rich foods in your regular diet:
Lean proteins: Foods like chicken, turkey, and fish provide biotin, iron, and zinc essential for nail strength and growth.
Leafy greens: Spinach, kale, and other leafy greens are high in iron, calcium, and vitamin E, promoting nail health and growth.
Dairy products: Milk, cheese, and yogurt are excellent sources of calcium necessary for strong, resistant nails.
Nuts and seeds: Almonds, walnuts, chia seeds, and flaxseeds are packed with healthy nutrients, including biotin, zinc, and vitamin E.
Legumes: Lentils, chickpeas, and other legumes provide ample amounts of iron, zinc, and biotin to support nail health.
Whole grains: Brown rice, quinoa, and whole wheat products offer essential nutrients like biotin, zinc, and iron for nail strengthening.
Following a balanced diet that includes vitamins and minerals for nail growth and health can significantly improve the appearance and strength of your nails. In addition to dietary changes, it's vital to practice proper nail care, hydration, and protection from damage to achieve and maintain gorgeous, resilient nails.
YOU MAY LIKE: Explore the Latest Trend: Cherry Brown Nails Design Ideas
Keeping Nails Hydrated: Lotions and Oils
Hydration is crucial when it comes to maintaining strong, flexible nails, preventing issues like cracking and peeling. Proper hydration can be achieved by using high-quality nail moisturizers and cuticle oils. This section will cover recommended products for maintaining moisture in nails and cuticles.
When choosing the best nail moisturizers, it is essential to focus on those containing nourishing ingredients. Some popular options include:
Neutrogena Norwegian Formula Hand Cream: This rich cream provides intense hydration for nails, cuticles, and hands.
OPI ProSpa Nail & Cuticle Oil: Formulated with nourishing ingredients like avocado oil and vitamin E, this oil deeply hydrates both nails and cuticles.
Essie Apricot Cuticle Oil: This lightweight oil softens cuticles and strengthens nails, providing essential nourishment and protection.
For those interested in cuticle oils, several products stand out:
CND SolarOil Nail & Cuticle Care: This blend of jojoba oil, sweet almond oil, and vitamin E helps repair and hydrate nails and cuticles.
Burt's Bees Lemon Butter Cuticle Creme: This all-natural formula softens cuticles while nourishing nails with vitamin E and sunflower oil.
Orly Cuticle Therapy Creme: Infused with avocado oil and aloe vera, this cream helps repair damaged cuticles and promotes overall nail health.
Remember, consistency is key when using nail moisturizers and cuticle oils. Apply them daily for best results, making them a part of your daily nail care routine.
In summary, keeping your nails hydrated is a vital step in maintaining healthy, beautiful nails. The recommended products mentioned above can help you achieve the desired level of nail hydration while taking care of your cuticles as well. Make these products an integral part of your daily routine, and enjoy stronger, more resilient nails over time.
Trimming and Filing: Best Practices for Nail Shaping
Mastering proper nail trimming techniques and learning how to file nails properly are essential steps in maintaining healthy and attractive nails. In this section, we'll guide you through the best practices for nail shaping, giving you the knowledge and confidence needed to perform a perfect home manicure.
Before we dive into the specific manicure tips, it's crucial to first understand the importance of using the right tools for trimming and filing your nails.
Choosing the Right Tools
Quality nail care starts by selecting the appropriate equipment designed to trim and shape nails without causing any damage. Some popular choices include:
Standard nail clippers: These basic clippers are a staple in most manicure kits and effectively trim nails with minimal stress on the nail plate. Opt for nail clippers made of stainless steel for durability and easier sanitation.
Glass nail files: Glass files gently shape and smooth nail edges without splitting or tearing, promoting overall nail health. They are also easy to clean and maintain, making them a worthwhile investment for your home manicure kit.
Cuticle nippers: Designed specifically for removing excess cuticles, these sharp, precise nippers are essential for achieving a neat manicure while avoiding any damage to the nail bed or surrounding skin.
Armed with these essential tools, you're now ready to step into the world of nail trimming and shaping. Below are some tips for best practices when handling your nails:
Trim nails straight across: Cut your nails straight and avoid cutting deep into the corners, which can lead to ingrown nails and discomfort. Make sure to leave a little length so that you can shape and file them later.
Hold the file at a 45-degree angle: When filing your nails, hold the nail file at a 45-degree angle and move in one direction rather than sawing back and forth. This prevents nail splitting and creates a smoother edge.
Choose your nail shape: Determine the desired shape (e.g., square, round, or oval) based on your personal preference and lifestyle, as some shapes may be more prone to breakage depending on your daily activities.
Maintain a regular schedule: Consistency is key when it comes to nail maintenance. Establish a routine to trim and file your nails every 1-2 weeks to keep them in optimal condition.
Patience, practice, and good technique are essential for perfecting your nail trimming and shaping skills. By selecting the right tools and following these best practices, you'll be well on your way to flaunting flawlessly manicured nails every day.
Protecting Nails from Damage
Your nails are exposed to various environmental factors and habits that can lead to damage, such as chemical exposure or excessive water contact. Nail protection is crucial for maintaining strong, healthy nails and preventing breakage. This section will discuss some strategies to help you prevent nail breakage and avoid nail damage.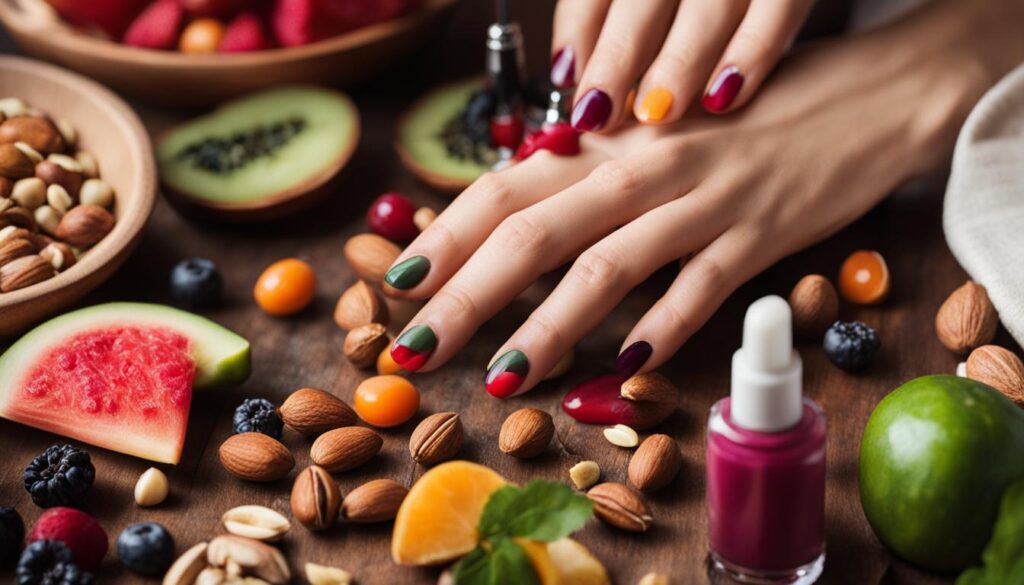 Here are some factors to consider when protecting your nails from damage:
Wear gloves: Whenever you're washing dishes, gardening, or working with chemicals, wear rubber or protective gloves to shield your nails from excessive water and chemical exposure.
Choose nail products wisely: Avoid using nail products containing harsh chemicals like formaldehyde, toluene, and camphor, as they can weaken your nails. Opt for gentle, natural products that promote nail health.
Limit water exposure: Excessive contact with water can soften your nails and make them more prone to breakage. It's important to dry your hands thoroughly after washing them, and don't soak your nails for extended periods.
Be gentle when cleaning your nails: Using metal tools or harsh nail brushes can damage your nails and cuticles over time. Clean your nails gently with a soft toothbrush and moisturize your cuticles regularly.
Avoid using nails as tools: Don't use your nails to open cans, pick at labels, or perform other tasks that can cause them to bend or break. Instead, use a proper tool to protect your nails from unnecessary stress.
Remember, nail protection is an essential aspect of maintaining the strength and beauty of your nails. It's crucial to be mindful of the habits that can cause damage and to implement measures to minimize risks.
DIY Natural Nail Strengthening Treatments
For those looking to avoid harsh chemicals and expensive salon services, homemade nail strengtheners and natural nail care remedies provide a safe and effective alternative. In this section, we'll explore recipes for homemade nail soaks and essential oils that promote nail growth and strength.
Recipes for Homemade Nail Soaks
Nail soaks are a popular method of nourishing and fortifying nails, and many can be made from simple, natural ingredients found in your kitchen. Here are a few easy DIY nail growth soaks to try at home:
Coconut Oil and Lemon Juice: Mix 2 tablespoons of warm coconut oil with 1 tablespoon of lemon juice. Soak your nails in this mixture for 15 minutes, then rinse and pat dry. The coconut oil provides natural hydration, while the lemon juice helps to brighten and strengthen your nails.
Olive Oil and Sea Salt: Combine 3 tablespoons of olive oil with 1 tablespoon of sea salt. Soak your nails in the solution for 10 minutes, then rinse and pat dry. This soak will moisturize your nails and the sea salt will help to exfoliate and improve circulation.
Apple Cider Vinegar and Essential Oils: Mix 1/4 cup of apple cider vinegar with a few drops of your favorite essential oils (such as lavender or tea tree oil). Soak your nails in the solution for 10-15 minutes, then rinse and pat dry. This treatment will help to restore the pH balance of your nails and fight against infections.
Essential Oils for Nail Growth and Strength
Essential oils offer a range of benefits for nail health, including promoting growth, hydration, and strength. Below are some top picks for natural nail strengthening:
Lavender Oil: Lavender oil has anti-inflammatory and antibacterial properties, making it ideal for strengthening and protecting nails. Mix a few drops of lavender oil with a carrier oil (such as almond or jojoba) and apply it to your nail beds daily.
Tea Tree Oil: Known for its antifungal properties, tea tree oil can help to prevent infections and improve overall nail health. Mix 2-3 drops of tea tree oil with a carrier oil and apply to your nails daily.
Peppermint Oil: Peppermint oil is known to boost circulation, which can help to stimulate nail growth. Mix a few drops of peppermint oil with a carrier oil and massage it into your nails and cuticles daily.
With these homemade nail strengtheners and natural remedies, you can easily support the growth and strength of your nails without resorting to chemical treatments or costly professional services. Remember to be patient and give your nails time to respond to the new treatments.
YOU MAY LIKE: Get Stunning Looks with Aura Nail Design – Explore Now!
Nail Polish and Treatments: What to Choose and Avoid
Your choice of nail polish and treatments can significantly impact the health of your nails. Both safe nail polishes and harmful nail treatment chemicals are available in the market, but it's crucial to be well-informed to make the best decisions for your nails. Understanding the potential risks of certain ingredients and opting for nourishing polish formulas can help maintain nail integrity.
When selecting nail polishes, focus on formulas that are free from toxic chemicals. Some of the most common harmful ingredients found in nail polish include:
Formaldehyde: A strong-smelling chemical commonly used as a nail hardener and preservative. It can cause skin irritation and is considered a potential carcinogen.
Toluene: A solvent that helps polish glide on smoothly. However, it can cause dizziness or headaches and harm the central nervous system when inhaled.
Dibutyl Phthalate (DBP): A plasticizer that prevents nail polish from becoming brittle. It is known to interfere with hormonal functions and may affect the reproductive system.
Opting for nail polishes labeled as "3-Free", "5-Free", or "7-Free" can be a safe bet, as these products are free from specific harmful chemicals. Brands like Zoya, Butter London, and Deborah Lippmann offer nail polishes without toxic ingredients, promoting nail health.
Pro Tip: Always look at ingredient lists on nail polish and treatment packaging to make sure you're choosing the healthiest option for your nails.
When it comes to nail treatments, avoid products containing formaldehyde as a nail hardener. Instead, focus on treatments that nourish and strengthen the nails. Consider formulas with ingredients like:
Hydrolyzed Keratin: A protein-based compound that reinforces nail structure.
Biotin: A B-vitamin known for promoting nail growth and strength.
Vitamin E: An antioxidant that can help protect nails from environmental damage and maintain moisture levels.
Maintaining nail health is not just about avoiding harmful substances but also incorporating high-quality, nourishing products in your nail care routine. Be mindful of the ingredients in your nail polish and treatments, and take proactive steps to protect your nails from damage.
How to Repair and Care for Brittle Nails
Brittle nails can be frustrating and may affect the overall appearance of your hands. Repairing damaged nails and preventing future brittleness involves understanding the factors causing this condition and implementing appropriate treatment for brittle nails. Here are some specialized tips and advice to help you achieve healthier, stronger nails.
Repeated wetting and drying of nails
Exposure to harsh chemicals and detergents
Aging and reduced production of natural oils
Nutritional deficiencies or medical conditions
Overuse of nail polish and acetone-based polish removers
It is crucial to address these underlying factors to effectively repair brittle nails. The following strategies can help you with repairing damaged nails:
Keep your nails moisturized: Apply a nourishing hand cream or cuticle oil twice daily to maintain nail hydration.
Limit water exposure: Wear gloves while doing household chores and avoid soaking nails in water for extended periods.
Use gentler nail products: Avoid using harsh chemicals and opt for non-acetone polish removers and 5-free or 10-free nail polishes, which exclude harmful ingredients.
Take care of your nutrition: Ensure a well-balanced diet rich in vitamins and minerals, focusing especially on biotin, zinc, and iron for better nail health.
Consult a medical professional: If the brittleness persists or worsens, consult your doctor to determine if any underlying health issues need attention.
Remember, repairing damaged nails and maintaining healthy nails is an ongoing process that requires dedication and consistency.
Finally, let's explore some preventive measures to maintain optimal nail health and avoid brittleness in the future:
Adopt a consistent nail care routine, including proper trimming, filing, and moisturizing.
Limit the use of nail cosmetics, allowing your nails to breathe and recover between applications.
Wear protective gloves when using harsh cleaning supplies or working in damp conditions.
Address any nutritional deficiencies with an appropriate diet or supplements, if required.
Taking proper care of your nails by implementing these tips and treatments for brittle nails will lead to healthier, stronger, and more attractive nails in the long run. Give your nails the love and attention they deserve to look and feel their best.
Adopting a Nail Care Routine for Long-Term Results
Consistency is key to maintaining nail health, and the best way to achieve long-lasting results is by adopting a daily nail care routine. In this section, we will guide you through a practical step-by-step daily routine that you can effortlessly incorporate into your lifestyle. Remember, maintaining healthy nails requires a combination of daily activities and occasional treatments.
"Beautiful nails require commitment, not a miracle."
Step-by-Step Daily Nail Care Guide
Following this daily routine will help you stay on track with maintaining nail health and ensuring long-term results:
Wash your hands: Start the day by washing your hands with a gentle soap that does not cause dryness. Keeping your hands clean is essential to prevent nail infections and ensure healthy overall nail growth.
Moisturize your nails and cuticles: Apply a quality hand lotion or cuticle oil to hydrate your nails and the surrounding skin, helping prevent cracking or peeling.
Care for your cuticles: Gently push back your cuticles using an orangewood stick or a cuticle pusher. Remember, never cut your cuticles as this can lead to infections and damage the nail growth process.
Trim and file your nails: Using the best tools for the job — such as glass files and proper nail clippers — trim and file your nails regularly to prevent splitting and promote a healthy shape.
Apply a nourishing base coat: Protect your nails with a nourishing base coat before applying any color. This will help shield your nails from potential damage and staining caused by nail polishes.
Limit exposure to harmful chemicals: When working around chemicals or water, wear protective gloves to reduce the risk of damage to your nails. Keep in mind that overly wet nails tend to be more susceptible to breakage.
Keep a balanced diet: Consuming a diet that is high in vitamins, minerals, and other nutrients essential for nail health is crucial for long-term results.
By sticking to this daily nail care routine, you will be well on your way to maintaining healthy, strong, and gorgeous nails. Just remember, patience and consistency are key, and over time, your efforts will be rewarded with beautiful, resilient nails.
YOU MAY LIKE: Top Fall Nail Ideas Short for A Chic Autumn Look
Conclusion
In summary, achieving healthy nails begins with a foundation of proper nutrition and a balanced diet. The combination of essential vitamins, minerals, and nutrient-rich foods fuels optimal nail growth and overall nail health.
Additionally, daily care and maintenance are crucial for the prevention of nail damage. This includes the use of hydrating lotions and oils, proper trimming and filing techniques, and protection against environmental factors. Opt for natural, homemade treatments and nourishing nail polish formulas while avoiding harsh chemicals that may cause harm.
Finally, incorporate a consistent, long-term nail care regimen into your daily routine. This commitment will help to maintain strong and gorgeous nails over time. Remember, patience and consistency are key when striving for optimal nail health and beauty.
FAQ
What nutrients are essential for strong nails?
Biotin, calcium, iron, zinc, and vitamin E are some of the crucial nutrients for nail strength and growth.
How can I keep my nails hydrated?
You can maintain nail hydration by using lotions and oils specifically designed for moisturizing nails and cuticles, such as cuticle oils.
What are some useful tips for trimming and filing nails?
Utilizing high-quality tools like glass files and proper clippers, combined with proper technique and timing, is key to maintaining the natural shape of your nails and preventing splitting.
How can I protect my nails from damage?
Minimize exposure to chemicals, excessive water contact, and be mindful of habits that can damage nails. Adopt strategies to reduce risks and protect your nails from environmental hazards.
What homemade treatments can help strengthen my nails?
You can create homemade nail soaks using natural ingredients found in your kitchen or use essential oils that are beneficial for nail growth and strength as part of your nail care routine.
How do I choose safe nail polish and treatments?
Opt for nail polish formulas and treatments containing nourishing ingredients and avoid those containing harmful chemicals that can damage the nails' integrity.
What should I do if I have brittle nails?
Treat your brittle nails by identifying potential underlying causes and adopting specialized tips to repair them. Focus on proper nutrition and consistent nail care to prevent future brittleness.
How can I establish a long-term nail care routine?
Implement a step-by-step daily nail care regimen that covers essential activities and occasional treatments. Consistency in nail care is key to achieving strong and healthy nails over time.