Are you searching for the perfect nail color to elevate your look? Look no further! Our guide to nail fashion is filled with the most stylish nail trends and seasonal nail colors that will keep your fingers and toes on trend throughout the year. Discover the top nail colors for each season, as well as transitional shades to seamlessly adapt to changing weather. Get inspired by Fashion Week, find flattering colors for your skin tone, and master the art of pairing your nail color with accessories and outfits. Your journey to stylish nails starts here!
Key Takeaways
Discover stylish nail trends for every season to stay on-trend all year long
Explore transitional nail shades to smoothly adapt between seasons
Find the perfect nail color to flatter your unique skin tone
Learn how to coordinate your nail color with your wardrobe and accessories
Take inspiration from the runway and embrace designer nail color trends
Select long-lasting colors and products for enduring nail fashion
Experiment, enjoy, and express your unique style through seasonal nail colors
Spring's Splash of Pastel Elegance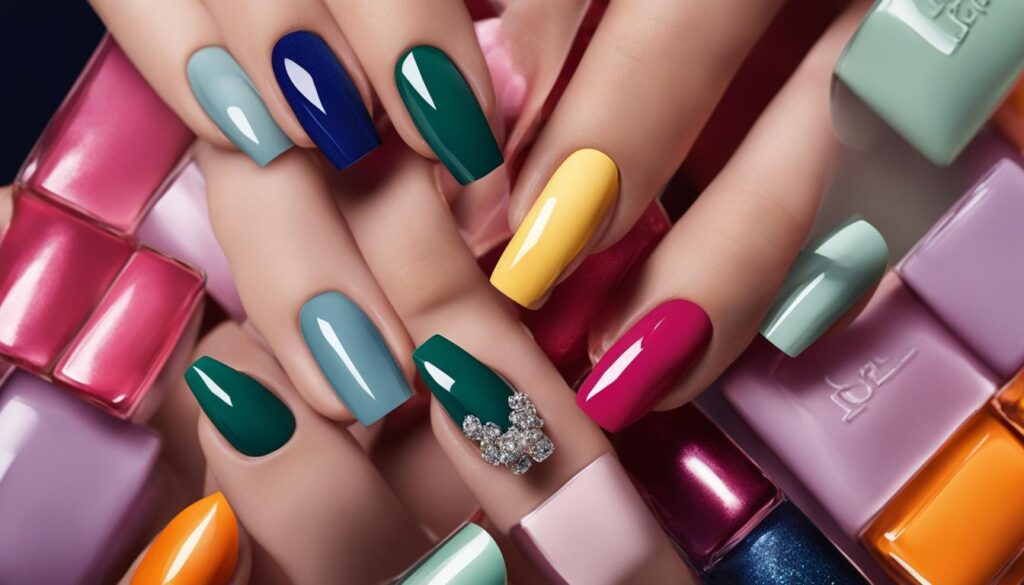 As winter retreats and flowers start to bloom, spring nail colors offer a refreshing change to welcome the warmer days. The season brings soft and subtle hues in the form of pastel nails, perfect for embracing the blossoming atmosphere. Elegant nail designs, inspired by delicate cherry blossoms and gentle hues, paint a picture of spring's blossoming palette.
One of the key trends in spring nail colors is pastel nails, which manage to be both understated and eye-catching at the same time. These dainty shades help create an effortlessly chic look that can be easily worn with any outfit. Pastel nail colors are not only fashionable but also versatile, adding a touch of elegance to jeans and a blouse or a sophisticated evening dress.
Spring: a lovely reminder of how beautiful change can truly be. – Unknown
When selecting spring nail colors, pastels are often the stars of the season, but don't be afraid to play with a mix of tones to create your unique style. Some popular choices include:
Muted pink, reminiscent of cherry blossoms
Soft lavender, for a touch of floral charm
Powder blue, echoing clear skies
Mint green, to channel nature's fresh growth
Peachy coral, capturing the warmth of the sun
Moreover, you can elevate your spring nail style by incorporating different elegant nail designs using pastel shades. Here are a few ideas:
Simple lines and geometric shapes using contrasting pastel colors
Gradient, making a smooth transition from one shade to another
Pastel-colored tips on a neutral or transparent base
Floral patterns, in tune with the blossoming flowers
Mix and match different pastel shades for each nail
In conclusion, spring is the perfect time to experiment with dainty pastel nail colors and elegant nail designs. Whether you go for classic soft pastels, intricate patterns, or a mix of shades, your nails will surely complement the beauty of the season. So, embrace this year's trend of pastel nails and add a touch of elegance to your spring attire.
Summer's Vibrant and Bold Statements
Summer's arrival brings with it a refreshing opportunity to experiment with vibrant nail colors, embrace bold nail polish, and make a statement with your nails. Whether you enjoy sunbathing at the beach or attending tropical getaways, this season's summer nail trends have got you covered. Discover electrifying neon nails, soothing ocean blue nails, and stunning sunset nail polish colors to keep your nails stylish during every summertime occasion.
Neon Hues for Daytime Fun
Playful and eye-catching, neon nails are the epitome of summer daytime trends. These electrifying shades represent the season's playful spirit and make for perfect accents during a variety of activities, such as pool parties and outdoor festivals. To fully embody summer's energetic vibe, try out the following bright nail polish shades:
Electric lime green
Highlighter yellow
Flamingo pink
Neon coral
Ocean Blues for Evening Gatherings
As the sun sets, shift gears to more cool-toned nail colors with ocean blue nails. These serene shades evoke the calmness of the sea and are perfect for adding a touch of sophistication to your summer evening nails. The deep blues and shimmering tones are ideal for nighttime socializing. Choose from any of these captivating shades:
Teal ocean
Shimmering sapphire
Seafoam green
Dark navy
Sunset Oranges and Pinks at the Beach
Immerse yourself in the warm embrace of nature's hues with orange and pink nails that echo the dazzling colors of a summer sunset. These beach nails perfectly complement your beachwear while capturing the essence of vibrant sunsets by the shoreline. To achieve the ultimate beachy vibe, consider these stunning sunset nail polish colors:
Burning tangerine
Fiery fuchsia
Blazing coral
Golden sand
Incorporating these lively summer nail trends will keep you fashion-forward and ensure your nails are always a showstopper during the sun-soaked season. Dare to experiment with vibrant nail colors and bold nail polish to make the most of your summer adventures.
YOU MAY LIKE: Top Fall Nail Ideas Short for A Chic Autumn Look
Fall's Earthy Tones and Cozy Classics
As the summer sun begins to fade, fall brings forth a rich palette filled with warmth, evoking the cozy atmosphere of the autumn season. This section will highlight the most popular fall nail colors and guide you through the art of embracing the earthy nail polish tones and classic autumn shades that define this enchanting season.
One of the most captivating aspects of fall is the transformation of nature featuring vibrant colors like burnt orange, golden yellow, and deep burgundy. These earthy nail polish shades not only reflect the beauty of the season but also offer a seamless transition into the winter months. Let's delve into the must-have nail colors that perfectly capture the essence of fall:
Burnt Orange: This warm hue resonates with the changing leaves and is a fall favorite for its versatility and richness in color.
Golden Yellow: Channeling the glow of a late autumn afternoon, this nail color adds a touch of warmth and shimmer to your fingertips.
Deep Burgundy: A classic autumn shade, deep burgundy is both sophisticated and cozy, making it an excellent choice for both daytime and evening events.
"Autumn is a second spring when every leaf is a flower." – Albert Camus
Although fall is often associated with darker, more muted colors, it doesn't mean you can't experiment with lighter shades. Consider trying out dusky pink, grayish purple, or taupe for a subtle nod to the season's hues. The key is to find a balance between the richness of classic autumn shades and the earthy nail polish colors that complement your personal style.
As the season changes and we adjust our wardrobes accordingly, fall's earthy tones provide the perfect opportunity to showcase your unique style with cozy classics. Remember, your nails are an extension of your personality, so don't be afraid to try new shades and mix your favorite colors to create your very own autumn-inspired palette.
Winter Wonders: Glitter and Shine
As the temperature drops and the holiday season rolls around, winter nail trends take center stage with glittering designs and shining finishes. Winter is the perfect time to experiment with dazzling nail colors that effortlessly complement festive outfits and accessories. In this section, we will explore some of the must-try glitter nails and shining nail designs to make your winter manicure sparkle like freshly fallen snow.
One of the most enchanting aspects of winter is its association with holiday cheer and twinkling lights. This magical atmosphere is reflected in nail colors that feature sparkling silvers, frosty blues, and shimmering golds. Whether attending a holiday party or sitting by a cozy fireplace, these nail colors are sure to add an extra touch of elegance and sophistication to your wintertime wardrobe.
Pro Tip: When wearing glitter nails in winter, don't shy away from mixing different shades of glitter for a unique and eye-catching effect!
Here are some glitter and shining nail designs to experiment with this winter:
Bold metallics: Rich metallic shades such as gold, silver, and copper are not only trendy but also versatile, pairing well with a wide range of winter outfits and accessories.
Frosty blues: Capture the icy essence of winter with light blue shades that glisten subtly like delicate snowflakes. These frosty hues also complement cool-toned skin and add a refreshing pop of color to darker winter clothing.
Shimmering mermaid ombre: Merge shades of teal, green, and purple with a touch of glitter for a mystical, mermaid-inspired manicure that shines as beautifully as the aurora borealis.
Crystal-encrusted tips: A sophisticated alternative to the classic French manicure, adding small rhinestones or crystals to the tips of your nails creates a glamorous and eye-catching look that's perfect for the holiday season.
Sparkling snowflakes: Draw delicate snowflake designs on top of a shiny base coat for a festive and wintery manicure that is as enchanting as a snowy landscape.
Incorporating glitter nails and shining nail designs can elevate your wintertime manicure and add a touch of glamour to any festive ensemble. Combine these ideas with on-trend winter colors and techniques to create a stunning seasonal look that will perfectly capture the magic of the season. Cheers to a winter of nail fashion wonders!
YOU MAY LIKE: Stunning Nude Halloween Nails for an Elegant Look
Transitional Nail Colors for the In-Between Seasons
As seasons change, it's essential to have versatile nail polish options that can seamlessly transition with fluctuating environments and wardrobes. In this section, we'll discuss the perfect seasonal transition colors to help you stay stylish during these in-between periods.
Adaptable Shades for Spring to Summer
When it comes to versatile spring shades, opt for colors that maintain freshness and vibrancy as temperatures rise and sunshine increases. Pale pinks, soft lavenders, and muted greens are excellent options for a smooth transition from spring's pastel elegance to summer transition nails. These colors capture the essence of spring while preparing for the excitement of summer days ahead.
Muted Warmth for Summer to Fall
Transitioning from the brightness of summer to the earthy tones of fall requires a touch of subtlety. Think muted summer shades that still hold onto the joy of warm months while easing into the cozy atmosphere of autumn. Warm beige hues, dusty rose, and toned-down terracotta shades are perfect warm autumn transition colors that maintain a connection with both seasons.
Pro tip: For an added element of style during these transitional periods, consider complementing your chosen nail shade with a subtle nail art design. This extra touch can bring a unique flair to your look and help you stand out during the in-between seasons.
Rich Tones to Transition from Fall to Winter
As the days grow shorter and temperatures drop, it's time to prepare for winter's chilly embrace with deep, rich autumn colors that carry the warmth of falling leaves into the crisp frostiness of winter. Look for luxurious shades like burgundy, deep plum, and chocolate brown to help you transition into winter-ready nail shades seamlessly. These colors evoke a sense of comfort while providing a natural evolution of style through color.
In conclusion, by keeping a collection of transitional nail shades at hand, you can easily navigate through the ever-changing seasons, ensuring your nails remain on-trend and fabulous all year round.
Nail Color Trends Inspired by Fashion Week
The world of high fashion has always made waves with its innovative designs and bold colors, sparking excitement on runways and influencing the latest fashion trends. One area that often gets overlooked but is just as important to nail fashionistas is the inspiration drawn from these designer collections, specifically when it comes to Fashion Week nail trends. In this section, we'll delve into how you can incorporate elements of designer nail colors into your everyday nail color choices for a runway-inspired look.
Each season, fashion designers from all around the globe gather to showcase their latest collections, serving as an opportunity for stylists to pick up on upcoming trends. As onlookers admire the intricate ensembles paraded on the runway, attentive observers can also spot the designer nail colors chosen to complement the garments. This attention to detail is what separates a cohesive, polished look from one that falls short of a complete ensemble.
"Nail polish speaks louder than words."
So how can you draw inspiration from these runway shows to transform your nails into an extension of your personal style? Here are a few tips to get you started on creating runway-inspired nails.
Stay Informed: Follow leading fashion publications, blogs, and social media channels to stay up-to-date on the latest trends, as well as the nail color choices prominent designers have sorted for their models. This research will equip you with an arsenal of ideas for translating high fashion into your nail color choices.
Embrace Textures and Patterns: Fashion Week often presents a variety of materials and patterns as part of its extravagance. Be daring and try to incorporate these elements into your nails, whether through the use of matte, metallic, or even textured nail polishes – the possibilities are endless!
Accent Nails: If you're hesitant to fully embrace a bold nail design, consider using a single accent nail as a nod to the trend. For example, if your chosen designer nail color is a striking blue shade, paint just one nail in the hue and keep the rest of the nails neutral for a balanced, yet fashion-forward, approach.
Create Your Own Runway-inspired Palette: As the seasons change, so too do the designer nail colors seen on the runways. Choose a combination of shades that reflect the current season's color palette for your nails, as this will ensure that your looks are both fresh and fashionable.
Now that you have a better understanding of how runway styles can influence your nail color choices, you can confidently translate high fashion into your nail art, keeping your nails on-trend and fabulously runway-inspired.
Choosing the Right Shade for Your Skin Tone
While it's fun to experiment with new flattering nail colors, it's also essential to choose shades that complement your unique skin tone. Selecting the right nail polish for skin tones will not only enhance your natural beauty but also boost your confidence in your personalized nail style. In this section, we'll guide you through choosing the best colors to suit your complexion.
Generally, skin tones fall into three main categories: light, medium, and dark. We'll go through each category to help you identify your skin tone and select colors that flatter your complexion.
Finding the Perfect Colors for Light Skin Tones
Individuals with light skin tones often have a fair complexion with cool or warm undertones. If you have a light skin tone, consider the following color options for a flattering look:
Pastels – soft pastel hues like baby pink, lilac, and mint green will complement your fair complexion.
Bright, Bold Shades – vibrant colors like magenta, teal, and coral can make a striking contrast against lighter skin.
Blue-Based Reds – a classic red with a cool, blue undertone will look elegant and timeless.
Medium Skin Tones Color Selection
Those with medium skin tones possess a more golden or olive complexion. When choosing nail polish for skin tones in this range, consider the following colors:
Warm Tones – colors like burnt orange, terracotta, and mustard yellow will beautifully enhance your golden undertones.
Berry Hues – rich berry shades, such as cranberry and plum, will balance and accentuate your skin's natural warmth.
Earthy Greens – olive and forest green shades will create a harmonious and chic look.
Dazzling Dark Skin Tones: The Sky is the Limit!
If your complexion falls into the dark skin tone category, you have the opportunity to explore a stunning variety of colors. Some bold and beautiful options include:
Metallics – shimmering golds, silvers, and coppers will add a luxurious touch to your nails.
Neons – electrify your style with vivid neon shades like hot pink, lime green, and tangerine.
Jewel Tones – deep and luxurious colors like emerald, sapphire, and ruby will create a sumptuous look.
Remember, the key to finding the perfect nail color is to embrace your individuality and have fun while experimenting with different shades. Your unique skin tone is a canvas waiting to be adorned with the colors that make you feel beautiful and confident!
Long-Lasting Nail Colors for All Seasons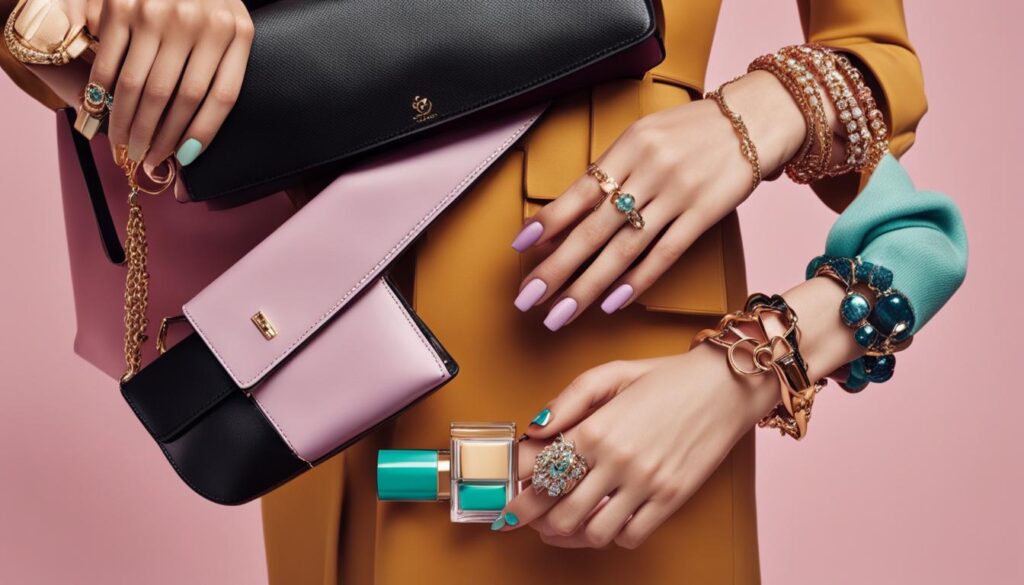 Durability is crucial for maintaining perfect nails throughout each season. This section is dedicated to recommending nail colors and products known for their longevity, ensuring that you can enjoy your favorite seasonal styles without constant touch-ups.
To help you select the most durable nail polish while indulging in all-season nail shades and following enduring nail fashion trends, we have prepared a list of top brands and colors worth investing in. These recommendations are designed to keep your nails looking stylish and polished all year long.
Essie Gel Couture: Known for its long-lasting formula, Essie Gel Couture offers a range of classic and trendy colors that can last up to 14 days without chipping. Particularly popular shades for all seasons include "Fairy Tailor" (a beautiful nude), "Spiked with Style" (a rich burgundy), and "Take Me To Thread" (a versatile taupe).
OPI Infinite Shine: This line provides a gel-like finish without the need for a UV lamp. With a wide variety of shades to choose from, OPI Infinite Shine is a go-to choice for those seeking lasting nail colors that can endure changing seasons. Popular picks include "Bubble Bath" (a soft pink), "Lincoln Park After Dark" (a deep purple), and "Big Apple Red" (a bold red).
Zoya Nail Polish: A healthy, long-wearing option, Zoya nail polishes are free of harmful chemicals and can last for up to 10 days with proper application. Their selection of all-season colors includes "Blu" (a pastel blue), "Ana" (a light beige), and "Frida" (a vibrant teal).
Choose nail colors and products with great longevity, ensuring that you can enjoy your favorite seasonal styles without constant touch-ups.
When considering long-lasting nail colors, always think about investing in a good quality topcoat. A topcoat can significantly improve the wear time of your nail polish, providing an extra layer of protection against chipping and fading.
In conclusion, the key to maintaining flawless nails all year round lies in selecting durable nail polishes that align with seasonal trends. Pair these with a high-quality topcoat to keep your nails looking stylish and fresh, no matter the season.
YOU MAY LIKE: Get Stunning Looks with Aura Nail Design – Explore Now!
How to Pair Your Nail Color with Accessories and Outfits
Coordinating your nail color with your outfits and accessories can give your look a harmonious and fashion-forward edge. In this section, we will explore various pairing strategies to help you create a complete, polished look from head to toe.
Selecting Jewelry to Complement Your Nails
Choosing the right jewelry can accentuate your nail color and ensure both elements complement each other. Consider the following tips on how to match your nail and jewelry combinations:
For warm nail colors like oranges, reds, and yellows, opt for gold jewelry, which enhances the nail color's warmth.
For cool nail colors like blues, greens, and purples, opt for silver or white gold jewelry, which complements the cooler tones.
For neutral nail colors like beige, gray, or white, consider versatile jewelry options such as mixed metals or rose gold.
Additionally, make sure your jewelry's gemstones work well with your nail color to create a cohesive complementary accessory look. For instance, pairing an emerald ring with red nails adds a sophisticated pop of color, while a turquoise necklace complements coral nails perfectly.
Coordinating Nail Colors with Seasonal Wardrobe
seasonal style pairing when selecting the right nail color. Think about the patterns, fabrics, and dominant color schemes for each season's wardrobe and choose matching nail colors accordingly:
Spring: Pastel nail colors work well with floral patterns, light fabrics, and softer tones.
Summer: Vibrant, bold nail colors complement light, airy clothing and tropical prints.
Fall: Earthy, warm shades pair with cozy knits, layers, and classic autumn colors like rust and brown.
Winter: Metallic, glittery nail colors work well with holiday outfits and darker, rich textiles.
An essential component of nail color wardrobe coordination is versatility: choose shades that easily work with various outfit combinations to create a cohesive appearance for every occasion.
Total Look – From Tips to Toes
Achieving a perfect head-to-toe style coordination can help you create a complete fashion look. Follow these guidelines for syncing your nail color with your outfit and toe-nail choices:
Keep things simple by matching your toenail color to your fingernail color.
Opt for complementary colors: pair a bold fingernail color with a more subdued toenail color or vice versa.
Use a neutral nail color as a unifying element, applying it to either your hands or toes to tie the look together.
Experimenting with accessorizing with nails and your outfit can lead to a beautifully coordinated ensemble that showcases your unique sense of style. Whether it's a day at the office or a night on the town, nailing the perfect look is just a color coordination away.
YOU MAY LIKE: Explore the Latest Trend: Cherry Brown Nails Design Ideas
Embrace Your Unique Style with Year-Round Nail Fashion
As we bring this guide to a close, we hope that you've discovered the perfect nail colors that speak to your personality all year long. This nail color recap should have given you a strong foundation for staying on-trend this season, and beyond. By making informed decisions on nail colors, you'll have the tools you need to stand out in carefully considered style.
Reflecting on the seasonal nail reflections, we've seen how each season carries its unique vibe and color palette while also offering transitional shades to create a seamless shift between seasons. With these insights, you'll be able to confidently select colors that both reflect the essence of the season and complement your individual taste, showcasing your personal style and creativity.
In summary, as we conclude our exploration of stylish nail trends, we encourage you to take these recommendations and make them your own. Experiment with different shades, match colors to your skin tone, and coordinate your nails with outfits and accessories to create a polished and cohesive look. Remember, the true essence of style is not about following trends blindly but finding the perfect balance between current trends and your unique flair. Embrace the possibilities and enjoy expressing yourself through your nails all year round!
FAQ
How do I choose the right nail color for each season?
Our guide provides an extensive list of top nail colors for every season, ranging from soft pastels in spring and bold neons in summer to earthy tones in fall and glittery shades in winter. Consider the season's mood, your wardrobe, and color trends when making your choice.
Can I wear the same nail color in between seasons?
Yes, there are transitional nail colors that can be worn as seasons change. Our guide includes recommendations for versatile shades that blend seamlessly between spring and summer, summer and fall, and fall and winter.
How do I match my nail color with my skin tone?
Our guide offers advice on choosing nail colors that flatter and complement individual skin tones, ensuring you feel confident in your choice. Pay attention to your skin's undertones and experiment with colors that enhance your natural complexion.
Are there specific nail colors inspired by fashion week trends?
Yes, our guide includes a section dedicated to nail color trends seen on the runways of fashion weeks around the world. You can take inspiration from designer collections and translate high fashion into everyday nail color choices.
How can I coordinate my nail color with my accessories and outfits?
Our guide provides tips on pairing your nail color with jewelry, selecting shades that complement your seasonal wardrobe, and achieving a cohesive head-to-toe look. Consider the colors, fabrics, and accessories trending in each season and select nail colors that harmonize with your overall style.
How do I ensure long-lasting nail color throughout the season?
The key to long-lasting nail color is using durable and high-quality nail polish. Our guide offers recommendations for nail colors and products known for their longevity. Remember to also practice proper nail care and maintenance to make your nail color last longer.