Introduction
Nail trends have become an integral part of fashion and self-expression, and staying up-to-date with the latest styles is essential for those who want to make a statement. As the seasons change, so do the hottest nail trends, and fall is no exception. In this article, we will explore the hottest fall nail trends of the year that are sure to elevate your manicure game.
Fall nail trends are characterized by warm and rich colors, unique designs, and innovative finishes. They offer a chance to experiment with different shades and techniques that perfectly capture the essence of the season. Whether you're a fan of bold and vibrant hues or prefer subtle and sophisticated nail art, there is a trend for everyone.
Keeping up with the latest nail trends not only adds a touch of glamour to your overall look but also allows you to showcase your personal style and creativity. From deep jewel tones to abstract designs, fall nail trends offer endless possibilities to express yourself through your nails.
In the following sections, we will dive deeper into the top fall nail trends of the year, providing inspiration, tips, and techniques to help you achieve the hottest manicure looks. So get ready to embrace the beauty of fall and elevate your nail game to the next level!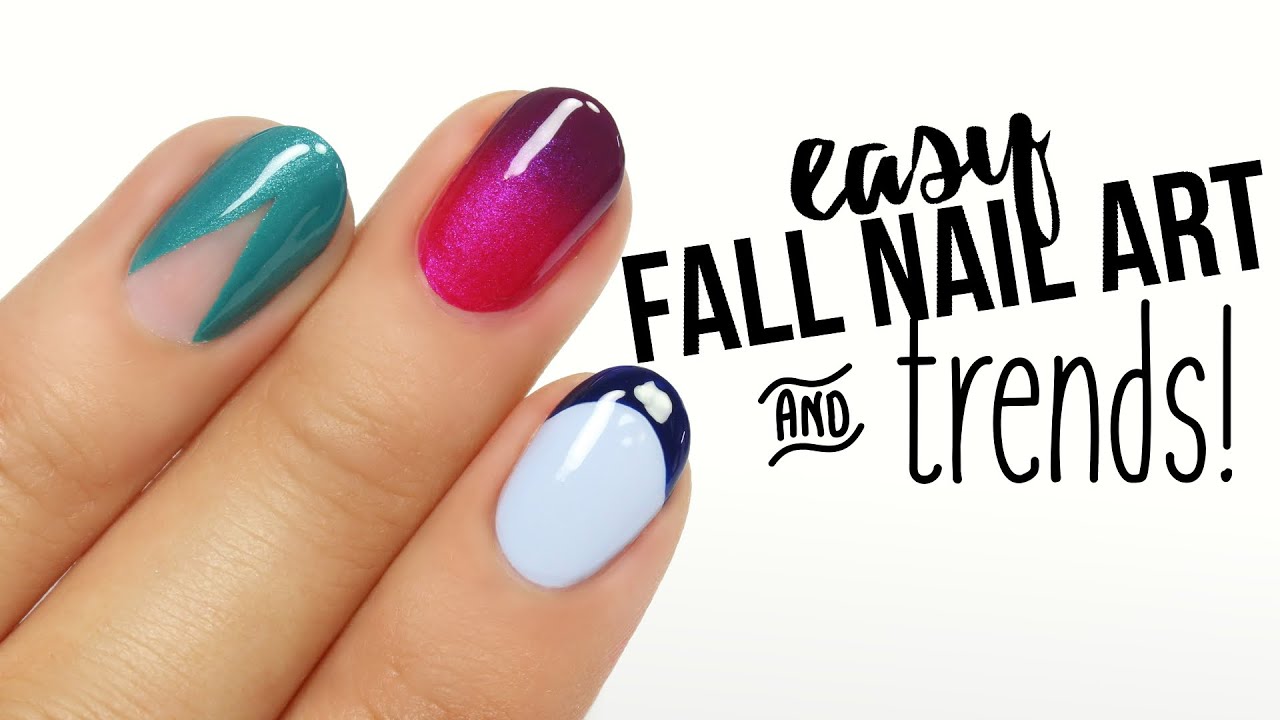 Trend 1: Rich Jewel Tones
One of the hottest nail trends for fall is the use of rich jewel tones. This trend embraces deep and vibrant colors reminiscent of precious gemstones, adding a touch of luxury and elegance to your nails.
Jewel tones like emerald green, sapphire blue, amethyst purple, and ruby red are perfect for fall as they complement the season's warm and cozy vibes. These bold and intense hues make a statement and instantly elevate any manicure.
To incorporate jewel tones into your nail designs, you have several options. You can opt for a full-color manicure, painting all your nails with the same jewel tone for a bold and cohesive look. Alternatively, you can choose an accent nail and paint it with a jewel tone, while keeping the other nails neutral or in a complementary shade.
Additionally, you can experiment with nail art using jewel tones. From geometric patterns and intricate designs to ombre effects and nail stamping, there are countless ways to showcase these rich colors on your nails.
When applying jewel tone nail polish, it's important to start with a base coat to protect your nails and ensure even application. Apply two thin coats of the chosen jewel tone polish, allowing each coat to dry completely before applying the next. Finish with a glossy top coat to enhance the shine and longevity of your manicure.
So, don't be afraid to embrace the opulence of jewel tones this fall. Let your nails shine bright like precious gemstones and make a fashionable statement with this trendy and glamorous nail trend.
Trend 2: Abstract Nail Art
In the realm of fall nail trends, abstract nail art has taken center stage. This trend embraces creativity, uniqueness, and a departure from traditional nail designs. Abstract nail art allows you to express your individuality and showcase a one-of-a-kind manicure.
Abstract nail art is all about playing with shapes, lines, and colors to create visually captivating designs. It gives you the freedom to experiment with different techniques and styles, making each nail a miniature work of art.
To create abstract nail art, you can start by choosing a color palette that reflects the fall season. Consider warm earthy tones, such as burnt orange, deep burgundy, or mustard yellow, and combine them with contrasting shades for a striking effect.
Next, explore various techniques like marbling, watercolor, splatter, or freehand brush strokes to create abstract patterns on your nails. You can also incorporate negative space by leaving parts of the nail bare or using tape to create geometric shapes.
Remember, abstract nail art is about embracing imperfections and asymmetry. Don't be afraid to experiment with different brush strokes, layering techniques, or combining unexpected colors. The goal is to create a unique and visually captivating design that reflects your personal style.
To ensure a long-lasting abstract nail art manicure, start with a base coat to protect your natural nails. Apply thin layers of nail polish, allowing each layer to dry before adding the next. Finish with a glossy top coat to enhance the vibrancy of the colors and add durability to your design.
Abstract nail art is a trend that encourages artistic expression and individuality. So, let your creativity run wild and create stunning abstract designs that will turn your nails into miniature masterpieces.
Trend 3: Matte Finishes
When it comes to fall nail trends, matte finishes are making a bold statement this year. Matte nails exude a sophisticated and modern vibe, offering a departure from the traditional glossy manicures.
Matte finishes are characterized by their velvety texture and lack of shine. They provide a unique and edgy twist to any nail color, giving it a muted and subtle appearance. Matte nails are perfect for those who prefer a more understated and refined look.
To achieve a flawless matte finish, start by preparing your nails with a base coat to ensure smooth application and protect your natural nails. Next, apply your chosen nail polish color, making sure to use a matte formula specifically designed for this finish.
One important tip when applying matte nail polish is to allow each coat to dry completely before adding another layer. This helps to prevent streaks and ensures an even and smooth application. Keep in mind that matte nail polish may require an extra coat compared to regular glossy polish to achieve full opacity.
To enhance the longevity of your matte manicure, finish with a matte top coat. This top coat not only adds durability but also intensifies the matte effect, giving your nails a velvety texture.
Matte finishes offer versatility, allowing you to experiment with a wide range of colors and designs. From classic fall shades like deep burgundy, olive green, or chocolate brown to trendy neutrals like mauve or slate gray, matte nails can complement any fall outfit or occasion.
So, if you're looking to add a touch of sophistication and modernity to your fall nail look, consider embracing the matte finish trend. Your nails will exude an effortlessly chic allure that is sure to turn heads.
Trend 4: Negative Space Designs
When it comes to fall nail trends, negative space designs have gained immense popularity. This trend embraces the concept of leaving parts of the nail bare, creating visually intriguing and minimalist designs.
Negative space nail art allows you to play with the natural color of your nails and incorporate unique patterns and shapes. By strategically leaving areas unpainted, you can create eye-catching designs that make a statement.
To create negative space designs, start by prepping your nails with a base coat to protect them and ensure a smooth application. Next, decide on the areas you want to leave bare and carefully apply nail tape or nail art stencils to create clean lines and shapes.
You can experiment with various patterns and designs, such as geometric shapes, stripes, or even delicate floral motifs. Consider using fall-inspired colors like warm neutrals, deep reds, or earthy tones to enhance the seasonal vibe.
Once you have applied the tape or stencils, paint the remaining exposed areas with your chosen nail polish color. Apply thin coats and allow each layer to dry before adding the next to achieve a clean and precise look.
Once your design is complete, carefully remove the tape or peel off the stencils to reveal the negative space. Finish with a top coat to protect your design and add shine.
Negative space designs offer a modern and artistic twist to traditional manicures. They allow you to showcase your creativity while maintaining a minimalist and sophisticated look. So, embrace the negative space trend this fall and let your nails make a unique and captivating statement.
Trend 5: Metallic Accents
Adding a touch of shine and glamour to your fall manicure, metallic accents are a trend that continues to dominate the nail industry. Metallic finishes offer a modern and edgy twist to traditional nail colors, creating a stunning visual impact.
There are various ways to incorporate metallic accents into your fall nail designs. One option is to choose a metallic nail polish in a bold and vibrant shade like gold, silver, or rose gold. You can paint all your nails with the metallic polish for a striking and cohesive look.
Another approach is to use metallic nail art accessories like studs, foils, or nail stickers to create intricate and eye-catching designs. These accessories can be applied strategically on specific nails or used to create patterns and accents.
For a subtle yet elegant look, consider combining metallic accents with other fall nail trends. For example, you can create negative space designs using metallic polish or add metallic details to abstract nail art. The combination of matte and metallic finishes can also create a striking contrast.
When applying metallic nail polish, start with a base coat to protect your nails and ensure smooth application. Apply two thin coats of the metallic polish, allowing each coat to dry completely before adding the next. Finish with a glossy top coat to enhance the metallic shine and seal in your design.
Metallic accents bring a touch of luxury and sophistication to your fall manicure. They can elevate any nail color or design, adding a glamorous and captivating element. So, don't be afraid to embrace the metallic trend and let your nails shine bright this season.
Trend 6: Gradient Nails
Gradient nails are a trendy and visually captivating nail art technique that adds a seamless transition of colors to your manicure. This technique involves blending two or more colors together to create a gradient effect on your nails, giving them a beautiful and eye-catching appearance.
To achieve gradient nails, start by selecting two or more colors that complement each other. For a fall-inspired look, you can choose warm tones like orange, burgundy, and gold, or opt for earthy shades like olive green and brown.
Apply a base coat to protect your nails, then paint your nails with the lightest color as the base. Once the base color is dry, you can use a makeup sponge or a small blending brush to create the gradient effect.
Dab a small amount of the second color onto the sponge or brush and lightly press it onto the tip of your nail. Gently dab and blend the colors together, moving the sponge or brush upward towards the base of your nail. This will create a smooth transition from one color to the other.
You can repeat this process with additional colors if desired, blending them together to create a multi-colored gradient. Remember to allow each layer to dry before adding the next to avoid smudging or mixing the colors.
Once you have achieved the desired gradient effect, finish with a glossy top coat to enhance the colors and add shine to your manicure. This will also help seal in the design and extend its longevity.
Gradient nails offer a unique and artistic twist to your fall manicure. They allow you to experiment with different color combinations and create a customized look that suits your style. So, embrace the gradient trend and let your nails showcase a seamless blend of colors this season.
read more articles about nails
conclusion
In conclusion, this article has explored six exciting nail trends for the fall season. From rich and deep jewel tones to intricate nail art designs, there is something for everyone to try and enjoy. The trends discussed include dark and moody shades, abstract nail art, matte finishes, negative space designs, metallic accents, and gradient nails.
Dark and moody shades bring a sense of sophistication and elegance to any fall look, while abstract nail art allows for creative expression and unique designs. Matte finishes offer a modern and refined twist, while negative space designs create minimalist yet captivating patterns on the nails. Metallic accents bring a touch of glamour and shine, and gradient nails provide a seamless blend of colors for a visually stunning effect.
By following these trends, individuals can elevate their manicures and stay on top of the latest styles for the fall season. Whether you prefer bold and dramatic nails or subtle and sophisticated looks, there is a trend for every personal style and preference.
Remember, nail trends are meant to inspire and encourage creativity. Feel free to experiment with different colors, designs, and techniques to create a look that is uniquely yours. So, embrace the fall nail trends and let your nails become a stylish accessory that complements your overall look.