The vast majority of us put on some form of makeup each and every day, but when was the last time you experimented with something truly glamorous? You know, the kinds of glamorous makeup looks that truly wow people and make you appear absolutely stunning?! If you feel as though you could use some new ideas for your makeup routine, then you have come to the right place. We have 23 different glam makeup styles for you today that will make you feel and look fantastic no matter the occasion. There is something available for you to use, regardless of whether you are heading to a party, going out for a night on the town, or just want to look stunning throughout the day.
1. GLAM NUDE MAKEUP LOOK
To begin, let's take a look at this glamorous take on a bare face. She has on dark eyeliner and nude eyeshadow that has a matte finish. To round off the look, she has on nude lip color with a glossy finish. This kind of makeup is very simple to put on, and it looks good on everyone. In addition to that, it may be dressed up or down to suit the requirements of every event.
2. BOLD EYES WITH NUDE LIPS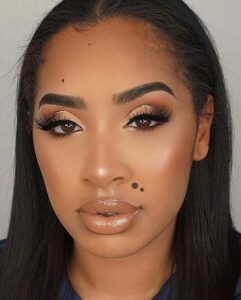 This is the best eye makeup for you if you enjoy wearing bold and dramatic eye makeup. In order to pull off this look, she has long, wispy lashes that are coupled with a soft smokey eye that has gold glitter in the crease. Because of the nude lip color, the eyes are really brought to the forefront, thus if your eyes are your strongest feature, then you should wear something similar to this.
3. SPARKLY BRONZE EYES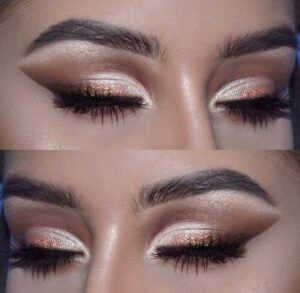 Could it be that you prefer the warm bronze tones instead? If that's the case, the inspiration for your makeup is right here. On the eyelid, the makeup begins with a sparkly nude tone, and then it transitions into a matte brown shade just above the crease. The look is amped up with the use of a bronze eyeshadow on a small portion of the eyelid. This color scheme is quite lovely, and it works wonderfully for the fall and winter seasons.
4. GOLD AND GREEN EYE MAKEUP IDEA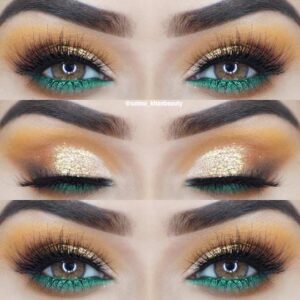 The next option for your cosmetic routine is to give your appearance a splash of color. As can be seen, the beauty artist is sporting a timeless look by donning the gold glitter eyeshadow that is very fashionable throughout the holiday season. On the other hand, she has given it a new spin by applying a gorgeous green eyeshadow down the lower lash line. This is such a cool concept, and I love how it adds some color without being overly daring. You can use any colorful eyeshadow color instead, or you can recreate this look. This style will bring out the beauty of your dark eyes.
5. AN IDEA FOR CHRISTMAS MAKEUP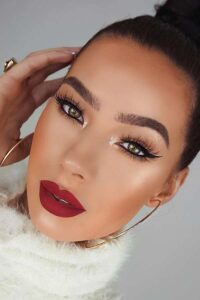 The following makeup style that we have for you is one of our faves since it gives the impression of being effortlessly glamorous. The professional makeup artist produced delicate brown eye makeup with long lashes and a burst of gold glitter in the inner corner of each eye. despite the fact that her lips are a gorgeous and lovely matte red. If you want to draw attention to your lips, this is the most effective way to do it because the eye makeup is kept to a minimum and the lip color is allowed to shine through. This style is perfect for the holiday season!
6. GLAM AND BOLD EYE MAKEUP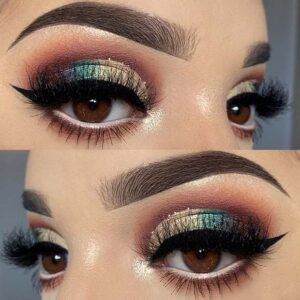 Next, we will demonstrate some more glamorous and daring eye makeup for you to try. Her eyelid is covered with a mottled pattern of colors, some of which are brown, blue, green, and even a very little gold. The look is finished off with dark liner and thick, dramatic lashes. Because this method will make your eyes appear larger and brighter, the white liner that was applied on her lower lash line is one of our favorite things about her look.
7. A TUTORIAL FOR THE BLACK SMOKEY EYE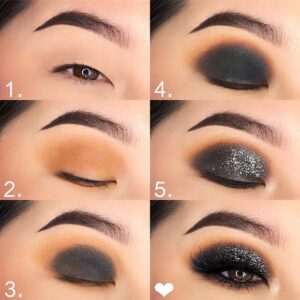 If you enjoy smoky eye looks that really stand out, then you should try this. These eyes have a sweep of glitter in silver and a dark smokey black coloration. This kind of makeup is great for going out at night, attending parties, and even for the holiday season. You will have a glam look, but with a bit of an edge as well. This is our favorite option! Depending on your own preference, pair with a neutral or dark red lip color.
8. SHIMMERY EYE MAKEUP WITH BOLD LIPS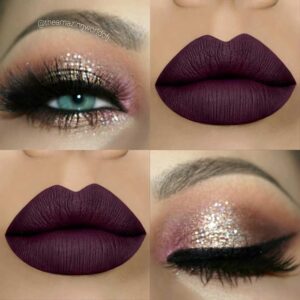 The next suggestion for your cosmetic routine is to use a more vibrant lip color. The eye makeup is simple and understated, with a hint of shimmer. A daring lip color with a matte finish in a deep purple hue finishes off the makeup look. This makeup gives the appearance of being effortlessly glamorous, and it is appropriate for any event. The autumn, winter, and the holiday seasons would be perfect for something similar to this as well.
9. SPARKLY EYES WITH RED LIPS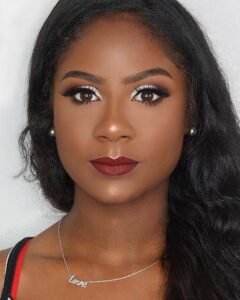 Perhaps you're more drawn to lip colors that are deeper and more saturated. If that's the case, this makeup was made for you. In this look, the lips are a gorgeous dark red tone, and the eyes have a sparkly silver finish. The red looks absolutely stunning, and the silver truly stands out. This kind of makeup is just what you need for the cooler months, like fall and winter. Even putting gold in your eyes as a Christmas costume is an option.
10. GLITTER EYES WITH SPARKLY EYEBROWS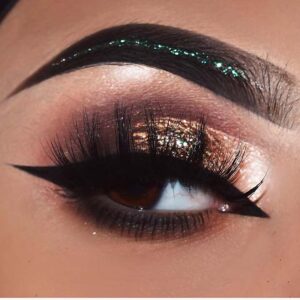 When we came across the following suggestion for a beautiful look, we knew that we had to share it with you! This one is ideal for the females who like to show off their best features. To emphasize this point, she possesses highly sparkling gold eyes that are also smoky brown in tone. She has glitter on her eyebrows in addition to her wonderful eyelashes. Her eyelashes are just stunning. The sparkling eyebrow is just stunning, and we adore it.
11. CLASSIC EYELINER WITH RED LIPS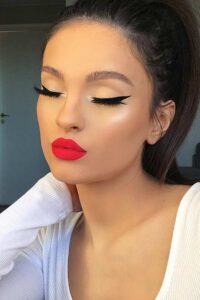 Perhaps you are more drawn to looks that are timeless, elegant, and glamorous. Check out this if that's the case. The makeup artist has added a black liner flick and matte red lips to the neutral eye shadow the model is wearing. This looks like it would be quite easy to look wonderful, and it would be perfect for a Christmas gathering. It is really adaptable and looks good with any eye color.
YOU MAY LIKE: 10+ essential winter skincare tips to follow