What is the DASH Diet?
The DASH diet is a widely respected eating plan focused on lowering blood pressure through diet. DASH stands for Dietary Approaches to Stop Hypertension. This diet was designed by the U.S. National Institutes of Health to help prevent and manage high blood pressure (hypertension). Medical research shows following the DASH diet can significantly reduce blood pressure in as little as two weeks.
The DASH diet emphasizes foods rich in nutrients that help lower blood pressure, such as potassium, calcium, magnesium and fiber. This eating pattern also limits sodium, saturated fat and refined or processed carbs and sugars. Some key characteristics of the DASH diet include:
A focus on vegetables, fruits and whole grains
Inclusion of low-fat dairy products, fish, poultry and nuts
Limiting saturated fats, red meat, sweets and sugary beverages
Paying close attention to limiting sodium or salt intake
While originally intended for those with hypertension, the DASH diet can benefit anyone's health by promoting heart health, controlling weight, and reducing risk of other diseases ↗. Even for healthy individuals, following the DASH diet leads to an overall healthier way of eating.
How Does the DASH Diet Help Lower Blood Pressure?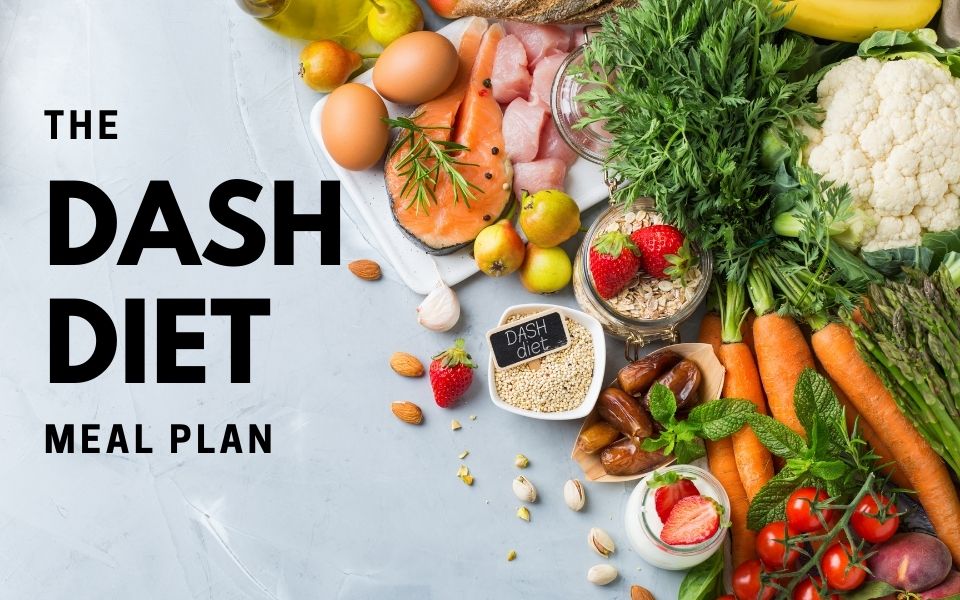 The specific nutrients emphasized in the DASH diet work together to help lower blood pressure through several mechanisms in the body:
Potassium: This mineral helps counteract the effects of sodium on blood pressure. Foods high in potassium include bananas, potatoes, and spinach.
Calcium and magnesium: These minerals help blood vessels relax and lower resistance, which allows blood to pass through more easily. Good sources include low-fat dairy, leafy greens and almonds.
Protein: The DASH diet recommends modest amounts of high-quality protein from sources like fish, poultry, beans, and nuts. Protein helps control blood sugar levels.
Fiber: Soluble fiber helps lower LDL "bad" cholesterol levels and manages digestion. Fiber-rich foods include oats, beans, and berries.
The combination of all these nutrients creates an effect greater than any single one alone. By eating more of these foods emphasized in the DASH diet pattern, it provides the building blocks to support healthy blood pressure naturally over the long term.
What Does a Typical DASH Diet Daily Menu Look Like?
A standard day on the DASH dietary pattern typically includes:
Breakfast:
Oatmeal with berries and 1 tbsp nuts
Low-fat yogurt with wheat germ or granola
Whole grain toast with nut or seed butter
Morning Snack:
Fruit like an apple or banana
Air-popped popcorn
Veggies with hummus
Lunch:
Spinach salad with grilled chicken, walnuts and berries
Lentil soup with whole grain bread
Turkey sandwich on whole wheat with lettuce, tomato and mustard
Afternoon Snack:
Mixed nuts or unsalted seeds
Hardboiled eggs
Carrot sticks with guacamole
Dinner:
Salmon with brown rice and steamed broccoli
Black bean tacos with shredded lettuce
Tofu stir fry over quinoa
Dessert (optional):
Fresh fruit sorbet or popsicle
Dark chocolate
Fat-free yogurt blended with berries
See how the emphasis is on whole, minimally processed foods from all major DASH diet food groups at each meal and snack? Sticking consistently to this general pattern leads to healthy blood pressure over time.
Food Groups & Daily Serving Recommendations
The DASH diet divvies foods up into specific groups and provides guidelines on appropriate daily and weekly serving sizes from each to achieve maximum blood pressure benefits.
CopyLow-Fat Dairy2-3
| Food Group | Daily Servings |
| --- | --- |
| Grains | 6-8, at least half should be whole grains |
| Vegetables | 4-5 |
| Fruits | 4-5 |
| Lean Meats, Poultry, Fish | 2 or less |
| Nuts, Seeds, Legumes | 4-5 per week |
| Fats and Oils | 2-3 |
By following these recommended daily and weekly allotments, dieters ensure they obtain all essential nutrients known to lower blood pressure while not consuming too many energy or sodium-laden foods. Pay special attention to including lots of potassium-rich veggies and fruits.
Does the DASH Diet Work for Weight Loss?
While weight control is not the primary goal of the DASH diet, sticking to this healthy eating plan can promote modest weight loss for a few key reasons:
Emphasis on fruits, veggies and whole grains provides bulk and fiber to keep you feeling full on fewer calories.
Lean proteins and low-fat dairy provide essential nutrients for muscle growth and metabolism support.
Limiting added salt and sugars means cutting high-calorie, low-nutrient ingredients.
Meal planning structure and focus on minimally processed whole foods lessens discretionary snacking and overeating.
In research studies, those adopting the DASH dietary pattern lost an average of 5-10 pounds over a few months without emphasizing calorie restriction. Any weight lost occurs gradually in a healthy, sustainable manner, which is easiest to maintain long-term versus crash diets. Even small 5-10 pound reductions lower disease risk factors substantially. For those needing to lose more, the DASH diet's foundation provides a healthy starting point.
What Foods Should Be Limited or Avoided on the DASH Diet?
To maximize the blood pressure-lowering effects of this eating pattern, certain high-sodium, added sugar and saturated fat foods should be consumed rarely or in moderation:
Salt: The DASH diet emphasizes limiting sodium to no more than 2,300 mg per day. This means fewer processed and packaged items containing lots of added salt.
Sweets: Sugar-laden and candy foods lack nutrients. Save sweet treats for occasional indulgences only.
Red Meat: Red and processed meat provide more saturated fat. Stick to a maximum 4 ounces cooked per week.
Full-Fat Dairy: Cheese, creamy dairy and fatty meats have more saturated fat. Choose low-fat or non-fat options when including dairy.
Trans Fats: Margarine, fried foods and baked goods cooked with partially hydrogenated oils raise LDL levels. Avoid these artery-clogging fats.
Alcohol: Consuming no more than 1 drink per day for women or 2 for men if choosing to imbibe. Too much alcohol will dehydrate you and hinder weight management attempts.
Cutting back on heavily salted, sugary and fatty convenience items allows proper consumption of more filling, micronutrient-packed whole foods essential for the DASH diet's blood pressure benefits. Develop a new normal around cleaner eating habits over time.
Benefits of Adding Exercise to the DASH Diet
To maximize cardiovascular health and disease prevention, exercise complements the DASH dietary pattern extremely well for several reasons:
Physical activity lowers blood pressure in addition to dietary changes alone. More is typically better for heart benefits.
Regular exercise trains the body to release stress and tension, which contributes to hypertension itself.
Movement burns additional calories to aid modest weight loss, which provides further heart protection independent of pounds shed.
Muscle-strengthening activities like resistance training build bone density and metabolism-supporting lean mass over the lifetime.
Aerobic exercise improves cardiovascular fitness and circulation, minimizing strain on the heart from daily activity alone.
Adding moderate activity on most days such as 30 minutes of brisk walking, dancing, swimming or bicycling enhances the anti-hypertensive effects of the DASH diet. Aim for at least 150 minutes weekly, but more is better for reducing disease risk even further.
YOU MAY LIKE: 15 Superfoods to Include in Your Balanced Diet Plan
Benefits of the DASH Diet Beyond Blood Pressure Reduction
While lowering blood pressure remains the primary goal, following the DASH diet pattern confers many additional health advantages:
Heart Health: Potassium, fiber, and antioxidants protect against heart disease and stroke. DASH lowers bad LDL cholesterol.
Diabetes Prevention: The moderate, balanced approach controls blood sugar and aids weight management to curb type 2 diabetes risk.
Bone Density: Calcium-rich foods like dairy combined with potassium, magnesium, and vitamin K from produce support bone mineral density over time. This helps guard against osteoporosis. Losing excess weight through the DASH eating pattern also reduces stress on bones from additional pounds to carry.
Cancer Prevention: Fruits and vegetables provide anticarcinogenic compounds ↗ known to lower inflammation and curb cancer cell growth. A diet rich in these plant foods is linked to reduced risks of certain cancers like colorectal. The Mediterranean-style DASH approach also cuts processed meat intake linked to higher cancer occurrence.
Kidney Health: Watching salt intake protects kidney function important for filtering waste from the blood, thus removing excess fluid from your body. The DASH plan helps keep blood pressure in a healthy range less stressful on delicate kidney tissues over decades.
Mental Wellness: Nutritious whole foods provide stable energy, support brain chemistry and deliver vitamins B12, D, E and omega-3 fats tied to mood regulation. The DASH diet also promotes weight maintenance and regular exercise – two hallmarks of positive mental health as well as physical well-being.
Arthritis Relief: Vitamin C and other antioxidants protect joints from damage caused by inflammation, a risk factor for conditions like rheumatoid arthritis. Omega-3 fats compete with inflammatory omega-6s. Fibrous plant foods lend protective effects too. Weight control supported by DASH further cushions pressure on weight-bearing joints.
Healthy Aging: By curbing risk factors for chronic disease, as well as preventing infections through robust immunity, the DASH diet sets up your whole body for longevity. High-quality whole foods deliver nutrients to repair and rebuild tissues for continuing good health throughout life's stages.
As you can see, the benefits of following the DASH diet go well beyond just lowering blood pressure to touch upon nearly every aspect of health. By incorporating this balanced, emphasizing whole foods, you give your body its best shot at overall wellness and disease prevention for the long haul. Let me know if any part of the DASH approach needs further explanation.
Meal Planning and Preparation
Taking some time on weekends to map out weekly meals and make staple dishes like beans, whole grains and chopped vegetables helps stay on track. Batch cooking allows for easy, healthful grab-and-go options when time is limited.
DASH-Friendly Swaps
Substitute lower sodium broth or bouillon when cooking rice and vegetables. Use fresh or dried herbs, spices, fresh garlic and lemon juice to flavor foods naturally instead of salt. Choose unsweetened nut/seed butter and dressings/sauces made without added sugars.
DASH When Dining Out
Look for grilled, baked or broiled menu options, and ask for sauces and dressings on the side. Go for salads with lean protein or veggie-focused entree plates. Share an entree or bring half home. Request preparation methods that don't involve frying or added saturated fats.
Travel Tips
Pack your own snacks like nuts, fruit, whole grain crackers when on the go. Search restaurant nutrition facts online ahead of time or bring along DASH-friendly items if dining options are limited. Stay hydrated and resist high-calorie temptations like chips, cookies, cheese plates at hotel minibars.
Stay Motivated
Keep a food journal for the first few weeks to stay on track and notice improvements in how you feel. Share your healthy lifestyle changes with friends and family to gain their support. Focus on mastering one DASH principle at a time so it sticks long-term as a way of life rather than a temporary "diet."
Consult an Expert
If you have high blood pressure or other chronic conditions, check with your doctor before beginning a new eating pattern to ensure it aligns with any specific medical needs. A registered dietitian can provide one-on-one counseling, recipe ideas and help troubleshoot challenges to finding your perfect DASH style.
YOU MAY LIKE: Unlock the Secret to a Perfectly Balanced Diet Plan for Optimal Health
conclusion
In summary, the DASH diet is a highly effective, research-backed eating pattern for promoting cardiovascular health and disease prevention. While originally created for hypertension patients, its balanced, nutrient-dense approach benefits anyone seeking a healthier lifestyle.
By focusing meals and snacks around whole foods like fruits and vegetables, lean proteins, and low-fat dairy, the DASH dietary pattern provides all essential vitamins, minerals, fiber, and antioxidants. Including regular exercise further amplifies its blood pressure-lowering effects.
When followed as outlined, with a daily focus on potassium, calcium, magnesium, and fiber while limiting salt, added sugars, and saturated fat, the DASH diet has reliably shown to safely lower blood pressure significantly within just a few weeks. Its emphasis on minimally processed whole foods also facilitates modest weight control.
Beyond reducing hypertension, adhering to the DASH dietary pattern confers protection against diabetes, heart disease, osteoporosis, and certain cancers. Its benefits even touch upon supporting brain function, minimizing inflammation, and boosting immunity over a lifetime.
Very few nutritional approaches have amassed such compelling evidence for extensive physical and mental health advantages.
For anyone seeking to lower disease risk factors naturally through lifestyle choices, adopting the balanced, nutrient-packed approach of the DASH eating plan sets the foundation for optimal wellness and longevity. While lifestyle changes take commitment, following this healthy dietary pattern improves quality of life and longevity well-worth brief adjustments to daily habits.
FAQs
Can the DASH diet help with weight loss?
While weight loss is not the primary goal, the DASH diet can help promote modest weight loss. Replacing less healthy foods with nutrient-dense options helps you feel fuller on fewer calories.
How long does it take to see results on the DASH diet?
Studies show you can start to see a drop in blood pressure within 2 weeks of following the DASH dietary pattern consistently. Some see results faster, but sticking with it long-term maximizes heart health benefits.
Is the DASH diet expensive?
Focusing on fresh, whole foods can seem more costly upfront. However, the DASH diet emphasizes affordable staples like beans, lentils, eggs, and in-season produce. With some planning, you can save money by avoiding processed alternatives.
How much salt can I have on the DASH diet?
The diet aims to limit sodium to no more than 2,300 mg daily. Choose fresh or frozen over canned options and go easy on table salt when cooking. Read labels to watch for sodium in bread, sauces, and snacks.
Can I drink alcohol on the DASH diet?
In moderation – up to 1 drink per day for women or 2 for men. Excessive alcohol provides empty calories and dehydrates, countering the benefits of the eating pattern.
Do I need to eat 6-8 servings of grains daily?
Not strictly, but filling half your grain allotment with whole grains ensures enough fiber intake. Variety keeps this healthy eating plan enjoyable long-term.
Can the DASH diet be followed as a vegetarian or vegan option?
Yes, with some adjustments like emphasizing soy, nuts, or legumes as protein sources in place of meat/fish. Be sure to meet all nutritional needs with fortified foods or supplements as needed.
Is the DASH diet safe long-term?
Yes, numerous studies show the DASH eating pattern is a healthy, sustainable way of eating that reduces disease risk over the lifelong span when followed consistently.
Do I need to measure out servings precisely?
Measuring is important at first to learn standard portion sizes, but over time you'll get a sense of natural portions that keep you feeling satisfied. Don't stress small variations.
Can I use diet sodas on the DASH diet?
Artificial sweeteners don't provide nutrients like whole foods emphasized in this diet. Water is best, but moderate diet soda intake shouldn't disrupt your results.
What if I have diabetes in addition to high blood pressure?
DASH focuses on balancing blood sugar through unprocessed carbs and fiber. Work with your healthcare team to tailor carb and sodium limits for your individual needs.
Where can I find more DASH-friendly recipes?
Browse sites like dashdiet.org, eatright.org or check out DASH diet cookbooks for dish ideas that make it easy and delicious to follow this healthful eating style.
Will I get enough calories on DASH?
Yes, just focus on satisfying your hunger with nutrient-dense whole foods while watching portion sizes. No need to count calories unless trying to lose weight rapidly.
Can I do DASH if I have food allergies or intolerances?
Yes, this diet is customizable. Consult a dietitian about safe substitutions that still provide required vitamins and minerals if avoiding certain foods.