It is a myth that only long nails look good with nail art. It is not necessary to have large nails to display the art extravagantly. To illustrate our point, we have included a list of several intriguing short nail designs. Don't be discouraged if you have short nails or lack the patience to take care of long nails, or if you lack tutorials on Glitter Nail Art Designs. 
Short nails are known to be easier to maintain, and the appropriate style may make them appear even more stylish. This post is for you if you enjoy keeping your nails short but struggle with the ideal styles. Every manicure design, from turquoise to scarlet, has its own allure to make your short nails look good. To learn more about DIY nail designs for short nails, keep reading!
Ombre nail art.
Ombres are currently in style! You name it: nails, clothing, and hair. It's all over. So, if there were no ombre tutorials on this list, it would be lacking. You must first give your nails a light pink color in order to achieve this appearance. Then, using a makeup sponge, gradually blend colors, ranging from blue to purple, so that when you dab it onto your nails, it will produce an ombre effect. With a Q-tip, remove any extra nail polish from your fingers before applying a glitter topcoat.
 Autumnal Pink Nails
This manicure only needs a few simple and adorable steps. Create one side of a leaf on your ring finger by starting with a base of pastel pink and using black polish on a nail striper. Do the same for the other side of the leaf using white polish. Swipe some silver glitter where the black and white meet to give it a little something extra, as seen in the illustration. Use the same colors to make stripes and polka dots on the remaining nails.
Heart Inception  Nasal Art
Put some hearts on your nails to spread some love. Simply draw one heart inside another, using various pink colors, to complete this manicure. If you have ever watched The Powerpuff Girls and can recall the cartoon's credits, you will understand what I am referring to.
READ ALSO: TOP 2023 GREY NAIL DESIGNS TO TRY
How-To: Ruffian Manicure
This seems to be both stylish and eccentric. This style can be made really quickly! You only need two of your favorite nail paint hues. To paint your entire nail, choose a single color. Paint 90% of the nails in the second color, leaving some space at the cuticle. The final step is to apply a top coat. You may proceed now.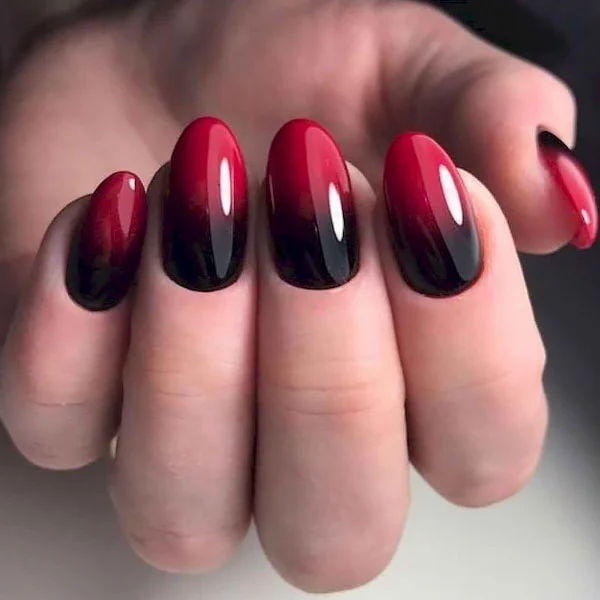 Painting on the nails
Bring out your creative side! You'll need a paintbrush in addition to your preferred manicure colors to achieve this nail splatter design. You should first paint your nails white. Next, load a brush with nail polish and dunk it in a cup of water. Spray the color from the brush onto your nails using your fingertips. In order to create the appearance seen in the image, repeat this process using other colors.
 Sticker Graffiti
Style is in simplicity. Without the need of any additional tools, you can easily make this dual-tone manicure in gold and black. Wipe off any extra nail polish from the brush, then randomly swab stripes onto your black-painted nails to create the effect of graffiti. You're done, all done!
 Black-and-White Peek-a-Boo Nail Art
The monochromatic, ah! To say that I adore monochrome imagery would be a vast understatement. These are hues that go with any trend and any season. Black and white is always a good choice. Simply paint a curved crescent on your nails in white, as shown in the image, to complete this manicure. Finish it off with a top coat after filling it in with black polish.
 Decorative Nails
Once upon a time, workspaces and pinstripes went hand in hand. However, they are now quite easily incorporated into casual attire. So why not draw inspiration from them for nail art? The only additional tool needed for this really simple pinstripe nail art design manicure is a nail striper. Create narrow stripes as shown after painting the white with the color of your choice. Use different colors on different nails if you want to take it a step further, but try to stick with pastel shades to keep it looking visually attractive.
 Tutorial for Geometric and Rose Nail Art
This nail art, which is ideal for the spring and summer, calls for a little care and accuracy. With a tiny brush, remove any extra light pink after painting all of the nails white as a base color. Create delicately little circles so that it contrasts softly with the white base. Create random lines with the help of the striping tape so that when they are applied over the olive nail polish, they produce geometric designs. Create gentle leaves for the flowers with the same olive polish, and you're done!
 Nail Art With Pink And Silver Stripes
You should start by painting your nails a hot pink color to achieve this effect. Once the hot pink has dried, use tape to create stripes, and then paint silver over it. As seen in the illustration, apply white and silver nail strips to the nail. You may either apply this to each nail individually or paint a gradient of pink and silver glitter.
 Short Pink Lace Nail Designs
Start by painting your nails two different shades of pink for this style. Use a nail striper dipped in white nail paint to make a checkerboard design on the lighter pink tint. Apply this to the nail's exterior corner. You can create gorgeous lace nail art by following the design exactly as it is shown in the picture. You can add polka dots to the other pink nails.
Triangle Nail Art
This triangle manicure should begin with a bare base. Once it has dried, use nail stripe stickers to shape triangles as seen in the picture. Now, paint each triangle with a distinct color using a tiny brush. After gently removing the stickers, apply a topcoat to finish. You now have it.
 French Tips With Glitter For Short Nails
You've probably attempted a French manicure with white tips, but have you ever used glitter tips? What are you waiting for, if not? Use black as the base color to achieve this manicure. Put some tape over the nails once it dries, then paint the tips of the nails with silver polish. Remove, then top-coat to seal
Geometric White and Green Nails
With the use of tape, you may replicate these geometric patterns. The base color for your nails should be white. Then, cut up tape strips and adhere them however you desire to create geometric forms. Remove the tape, apply the green polish over it, and then apply a topcoat to complete. Additionally, you may combine several hues to provide a splash of color!
Pink Yin and Yang.
Have you ever seen a pink and black Yin and Yang? You've probably heard of the monochromatic Yin and Yang. If not, then it's time for you to give it a try! Start with a hot pink foundation. Create a wave with black nail paint, as seen in the illustration. Dot the pink side with black and the black side with the other color. You can use a glitter top coat to add a little glitz.
Chevron Nails.
Red nail polish will serve as the foundation for this red, white, and blue chevron design. After that, apply tape in the manner depicted in the image and cover it with blue paint. Use white in the same way.
Nail Art with Rainbow Tips
This one is really simple! It won't take too long. Your nails should have a base coat of white. To make tiny dots at the tips, use a toothpick, a q-tip with a point, or even a hairpin. For various nails, use different colors.
 French Nails
You will need two polishes—one black and the other a very pastel peach—for this Parisian manicure. Except for the accent nail, paint the other nails a pale peach color. That will require black paint. With the peach color, do polka dots on the accent nail. Then, using a nail striper and some black lacquer, draw the Eiffel Tower as seen in the picture.
READ ALSO: Nail Designs for the French Manicure To Try At Home