Top 80s Makeup Looks
In this article, we will explore some of the most popular and easily recreated makeup looks from the glorious 80s. Whether you love the era's aesthetic or just want to channel some retro vibes, these timeless styles are sure to provide vintage inspiration, then Let's take a walk down memory lane and revisit some of the most iconic 80s makeup looks.
Classic Glam Makeup
One makeup look that never seems to go out of style is glamour. In the 80s, glamour meant bold lips, dramatic eyes, and airbrushed skin. This classic makeup style featured:
Contoured cheeks: The 80s saw the rise of defined cheekbones and hollowed out faces thanks to Techniques for Contouring and Highlighting the Face. Cream or powder blush was swept around the upper cheekbones and blended downwards towards the hairline to add angular structure.
Defined brows: Thick, arched eyebrows defined the eyes. Brow powder or pencils shaped full, sculpted brows that framed the face.
Smokey eyes: Dark, blown-out eyes were a signature 80s look. Greys, charcoals, and smokey taupes blended along the lash line up to the crease created a smudged, sultry effect. Consider pairing this makeup with false eyelashes for maximum drama.
Red lips: Vibrant, true red lips caught attention and balanced out the bold smoky eyes. MAC's Ruby Woo remains a bestselling red lipstick that channels the 80s vibe perfectly.
Airbrushed skin: Liquid foundations and powders buffed skin to a flawless, photo-ready finish. Look for luminizing primers and highlighters placed along high points to recreate the sunkissed glow.
This glamorous 80s makeup style remains relevant today for parties, nights out, or whenever you want to feel like a Hollywood starlet. The key is balancing defined contouring with luminous skin and a bold lip.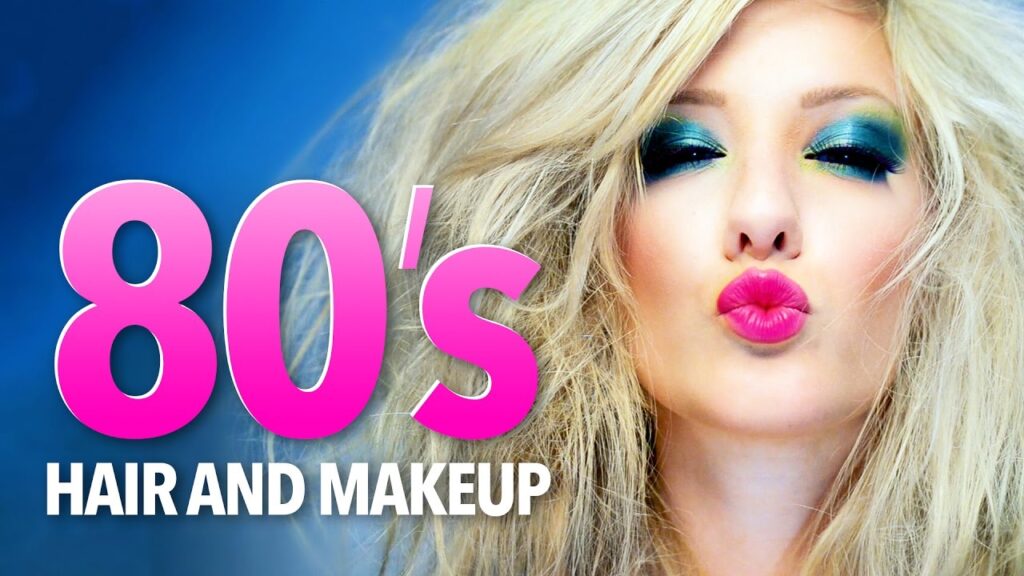 Neon Eyeshadow
Bright, fluorescent shades took eyeshadow to new heights in the 80s. Neon and pastel hues popped against dark hair and tanned skin. Some popular neon eye looks included:
Lime green: Dark kohl liner defined the lash line and lower waterline, smudged out with a vibrant lime shadow swept across the lid.
Fuchsia: Pale, shimmering pink blended into the crease with a hot fuchsia packed on the center of the lid. False lashes layered on for high-impact color.
Electric blue: Navy or black shadow shaped the outer "V" with a royal or bright blue swept along the lower lash line and inner corner.
Grape: Plummy shades mixed poorly with some skintones but were all the rage when paired with tan skin. Aubergine or burgundy in the crease with purple along the lower lashes made a statement.
Neon eye makeup demanded boldness. Consider tightlining the upper waterline and layering on several coats of mascara to make neon shadows really pop. Or play up the decade's love of orange and yellow tones for a softer vintage take on bright eyes.
Blonde Ambition
Big, poufy hair became synonymous with the 80s. This blonde ambition makeup look  enhanced hair volume with pale, glowy makeup. Key features included:
Lightened brows: Thinner, lighter brows framed the face but didn't detract from hair. Sweep brow shading lightly along natural arches.
Rosy cheeks: Dust on blush just atop the apple of cheeks for a botched, fresh-faced glow. Cream or liquid formulas blended better than powder.
Pink lips: Pale berry or nude pink saturated full lips for a natural flush. Gloss provided shine without overpowering the look.
Lit-from-within complexion: Luminizers, highlighters, and delicate contouring sculpted a lit-from-within glow. Think peachy highlights down the center of the face.
Baby doll eyes: Keep eye makeup minimal with balled mascara, soft kohl, or a flutter of lashes. Pale eyeshadow swept across lids elongated peepers.
This natural yet polished makeup style accentuated big, feathered dos. It works well for complementing fair features or channeling a fresher 80s vibe.
YOU MAY LIKE: 10 Makeup Tips to Make You Look 10 Years Younger
Iconic Betty Paige
The embodiments of pin-up glamour in the 80s, Bettie Page inspiredunderstated yet sexy makeup with her doe eyes and curves. The dark-haired look included:
Deepened features: Sultry eyes came from thickly lined lashlines darkening up to the crease with a matte taupe or grey. Kohl smudged along the upper lashline created a provocative effect.
Architectural brows: Full brows framed eyes in a strong architectural shape. Consider using a pomade or pencil to add thickness and definition.
Warm blush: Risqué cheeks came from peachy, flushed blush swept across apples of cheeks and blended back. Cream rose tones did the trick.
Peach pout: A soft, blush-toned lip showed just a peek of lip color. Gloss hydrated lips and picked up rosy undertones.
Sleek pin curls: Big, bouncy curls shaped the face femininely. Dark hair kept things alluringly mysterious.
Channel your inner pinup with this bombshell look. Sexy exaggeration through darkness and warmth along the eyes and cheeks balanced an otherwise natural face. Lingerie-pink tones and tousled hair finished the throwback feel.
Alternative Styles
Not all 80s makeup conformed to norms. Experimentation reigned. Some alternative styles included:
Goth: Dark circles smudged along lashlines, charcoal smoky eyes, and pale lips suited heavy metal tastes. Experiment with vampy reds, purples and blacks.
Punk: edge came from shaved brows, relentless black liner spiked into wings, and vibrant clashing colors like lime and fuchsia. Attitude spoke louder than precision.
New Wave: Quirky involved asymmetrical shadow placements, glitter cut creases, and unusual shades like teal or lilac. Clashing prints reflected this eclectic look.
Hippie Chic: Flower crowns, face jewels, and kaleidoscopic liners counter-cultured mainstream styles. Earth tones and natural textures suited laidback bohemian vibes.
Alternative styles remind us makeup shouldn't conform, but celebrate self-expression. Play with unconventional liner shapes, unusual colors and creative textures whenever you want to stand out from the crowd.
Enduring Inspiration
While opinions on 80s excess may differ today, the decade undeniably revolutionized the world of beauty by empowering self-expression through vibrant and creative makeup application. Bold styles that may have seemed radical then have become mainstream, showing the lasting impact of 80s trends.
Whether you enjoy recreating the nostalgia or putting your own spin on retro looks,80s fashion and makeup continue sparking innovation decades later.
With a bit of colorful eye shadow and red lipstick, channelling that glorious 80's aesthetic has never been easier. So embrace your inner indulgence and get glamorous!
80s Makeup Looks that Would Totally Fly Today
The 80s was truly a transformative decade for fashion and beauty. Out with the natural looks of the past and in with bold statements and self-expression. Makeup evolved light years ahead with wild colors, extravagant styles and creativity at an all-time high. Let's take a walk down memory lane and revisit some of the most iconic 80s makeup looks.
Power Browns and Plums
Rich browns and plums were huge in the 80s. The decade favored earth tones and these cozy colors fit right in. Brown smokey eyes layered on thick created a sultry gaze that said "look but don't touch." Plums perfectly complemented the tan skin that was desirable at the time. Matte shadows helped these hues pop without any shine.
Table 1 – Popular 80s Brown and Plum Eyeshadow Colors
| Color | Brand |
| --- | --- |
| Woodwinked | MAC |
| Sable | MAC |
| Mulled Wine | Makeup Geek |
| Cocoa Bear | Makeup Geek |
| Purple Haze | Wet n Wild |
Bold Liner and Lashes
Nothing said 80s like an accentuated eye. Thick black liner framed peepers and winged out dramatically. Some took it up a notch with metallic and colored liners in shades of green, blue and purple. Heavy coats of black mascara and false lashes were a must to make eyes the center of focus.
Table 2 – Iconic 80s Eyeliner and Mascara Products
| Product | Description |
| --- | --- |
| Maybelline Great Lash Mascara | The original tubing mascara that gave full volume lashes. |
| Physicians Formula Eye Booster Eyeliner | Ultra-pigmented pencil that stayed put all night long. |
| Wet n Wild MegaLines Eyeliner | Budget-friendly liquid liner in bold shades. |
Neon and Pastels
The 80s toyed with bright colors like no other era. Neon pinks, greens, yellows and oranges livened up lids and cheeks. Pastel shadows in shades like mint, lilac and baby blue brought an innocence to eyes. Graphic liner further accentuated pops of color. Lipstick and blush matched or contrasted eyes for head-turning looks.
Sculpted Contours
As workout culture took off, sculpted cheekbones and chiseled jaws became idealized. Contouring taught women how to chisel and define their faces with makeup. Harsh contours created shadows that made faces appear slimmer. Bronzers in shining metallics added an extra glow. Blush swept high on cheekbones gave faces a lifted look.
Glamour Glosses
Lips got plump and plush treatment with gloss galore. Sheer formulas and pearl pigments created a wet-look. Popular brands like Bonne Bell and Maybelline released addictive flavors in every color. Glosses paired with bright liner created an attention-grabbing pout. Some opted for bold matte shades if they weren't afraid to stand out in a crowd.
Table 3 – Iconic 80s Lip Glosses
| Product | Description |
| --- | --- |
| Bonne Bell Lip Smackers | Fruity flavored glosses in collectible tins. |
| Maybelline Lip Gloss | Hydrating glosses available in an array of shades. |
| Wet n Wild MegaSlicks Balm Stain | A 2-in-1 balm and stain gloss. |
Graphic Liner Art
Eyeliner art took Imaginations to the max in the 80s. Winged liner morphed into colorful shapes on lids like hearts, stars and cat-eyes. Patterns and zigzags framed eyes creatively. Bright shades were used to make bold statements. It took skill but resulted in fun, conversation-starting looks.
DIY Dakini Beauty
Before YouTube tutorials and Instagram, plastic gemstones, glitter and hair feathers got pinned, glued and drawn onto faces. Anything went in the spirit of self-expression. DIY makeup like deconstructed power brows, metallic lipstick designs, glitter cut creases – you name it, we tried it. The rule was no rules when it came to playing with products.
Velour Pouts
What's more 80s than soft velour? Liquid lip colors in plush materialism launched a love affair with transfer-proof matte lipsticks. These budge-proof wonders stayed on through everything from makeout sessions to trips to the roller rink. Iconic brands like Revlon and L'Oreal dominated drugstore shelves with these innovative lip innovations.
Makeup from Movies and Music
From Madonna's bold liner and tattooed brows, to Cyndi Lauper's technicolor shadows, musicians inspiredarmies of fans. Films like Flashdance showcased wet-look hair and smoky eyes. Fame's metallic liners blew minds. Pretty In Pink introduced pastels. Magazines covered star tutorials further popularizing trends like the Fox eye flick from Streets of Fire. Big hair and makeup styles dominated pop culture.
YOU MAY LIKE: 25+ Purge Makeup Ideas for a Thrilling Look
conclusion
The 80s unleashed creativity in makeup like no other time. From neon hues to graphic liner art, techniques were experimental and self-expression loud. While trends have certainly evolved, the freedom to play and embrace individuality lives on. Do you have any favorite 80s makeup memories or styles to resurrect? Let us know in the comments.
FAQS
What was the makeup look at for the 80s?
The makeup look of the 80s focused on big hair, dramatic eyes, and bold lips and nails. Eyeliner, mascara, eyeshadow, blush, and lipstick were all worn very visibly and brightly.
How to do simple 80s makeup?
A simple 80s makeup look includes thick black eyeliner on both top and bottom lids, heavy mascara, rosy blush on the cheeks, and a bold pink or red lip. Sweep eyeshadow across the entire lid in shades of purple, blue, or brown.
What was the most popular makeup look in the 80s?
The most popular and iconic 80s makeup look featured thick dark brows, heavy mascara, frosted gray or lilac eyeshadow all over the lid, black or navy pencil liner heavily applied along the upper and lower lash lines, and a vibrant pop of color with pink or red lipstick.
Is blue eyeliner 80s?
Yes, blue eyeliner was definitely a key trend of 80s makeup. Bright shades like royal blue, electric blue, and teal were commonly worn along the upper lash line.
What is an 80s face?
An "80s face" refers to the style of makeup popularized in that decade focused on accentuating the eyes, cheeks, and lips for an overly made-up look with bright colors and bold features. Thick brows, winged eyeliner, rosy blush, and glossy lips defined the 80s face.
What color lipstick was popular in the 80s?
The most iconic and popular lipstick shades of the 80s were fire-engine red, hot pink, and baby pink. Glossy, high-shine finishes were also key for capturing the glamour and experimentation of 80s beauty trends.
How to style 80s hair?
Popular 80s hairstyles included teased, backcombed hair worn big and poufy, feathered cuts with layers and flips, andsmoothed-out styles with lots of hairspray and volume on top. Tools like root lifters, volumizers, and mousse helped achieve lift and body.
What hairstyles were popular in the 1980s?
Some of the most iconic hairstyles of the 80s were the mullet, feathered cuts, flips and layers galore, huge hair with a lot of volume on top, big bouncy curls, and styles incorporating crimping, perms, or bows/headbands for flair.
How to do 80s rock eyeshadow?
An 80s rock eyeshadow look often featured black or gray liner on the lid and lower lash line along with purple, blue, or brown shadow blended all over the lid and creased for drama. Accent the look with thick, drawn-on brows and heavy mascara.
How to look like an 80's girl?
To achieve the quintessential 80s girl look, tease your hair big and pile it high, accentuate your eyes with colored shadow and liner, wear your favorite pop of red, pink or purple lipstick, add shiny leggings or a scrunchie, and finish with oversized jewlery, acrylic nails and a bubble gum scent. Transport yourself back to the radical 80s!
Was lip gloss popular in the 80s?
Yes, lip gloss was enormously popular in the 1980s and played a key role in defining 80s beauty trends. Glossy, high-shine finishes enhanced the bold lipstick shades of the decade for an extra dose of glamour.
What is 80s glam fashion?
80s glam fashion refers to the over-the-top, boldly patterned and brightly colored styles epitomized in the decade. Signature silhouettes included power suits, puffed sleeves, peplums, crop tops, spandex leggings, neon colors and motifs, statement jewelry, teased hair, and excessive use of prints, ruffles, sequins and glitz for an unapologetically glamorous effect.