Barbie Blonde Hair: 25+ Hottest Hair Color
Barbie dolls are known for their long, shiny blonde hair. Over the years, Mattel has experimented with different blonde shades for Barbie's hair that have stood the test of time and become true hair goals. In this article, we'll explore 25 of the hottest blonde hair colors Barbie has sported and how you can achieve these looks yourself.
1. Golden Blonde
One of the original and most iconic blonde shades, Barbie's golden blonde hair is the color that started it all. A sunny yellow blonde, this hue makes hair look illuminated from within. To recreate the look, ask your hair stylist for medium ash golden blonde highlights on pre-lightened hair. For upkeep and shine, use a glossing shampoo and conditioning treatment weekly.
How to maintain golden blonde hair:
Deep condition weekly with a moisturizing mask
Apply a glossing shampoo to enhance shine
Limit heat styling and sun exposure for longevity
2. Honey Blonde
A few shades deeper than golden blonde, Barbie's honey blonde color has warmth and dimension. This is achieved through caramel and darker blonde balayage pieces throughout. For hair that's been lightened, ask your stylist for multidimensional balayage highlighting using two to three different blonde tones. Be sure to check out these hair care tips for maintaining honey blonde hair's low-maintenance vibrancy.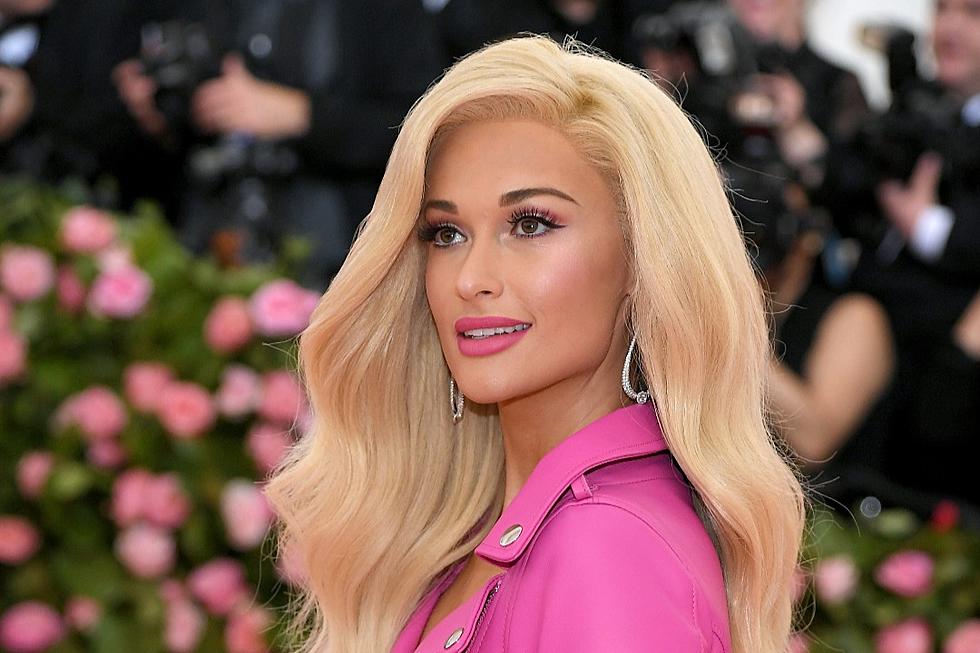 3. Strawberry Blonde
With hints of peach and rose pink woven throughout, strawberry blonde hair has a vibrant, glossy finish. This pretty power shade fits Barbie's bubbly personality perfectly. For those with medium to dark blonde hair open to warming up their tone, ask your colorist for hand-painted highlights featuring strawberry and rose gold tones. The result will be dimensional and feminine.
| Tone | Level |
| --- | --- |
| Peach | 7-8 (dark blonde) |
| Rose gold | 8-9 (medium blonde) |
Avoid washing hair more than every other day to maintain vibrancy. Consider an enhancing glaze every 4-6 weeks.
4. Butterscotch Blonde
Sultry and rich like butterscotch candy, this caramel-infused blonde hair color shows dimension and highlights natural highlights. For medium blonde hair lacking warmth, custom butterscotch balayage with blended tones of gold, honey, and caramel can give you this coveted look. Be sure to use a silk-infused conditioning shampoo and ask about smoothing glossing treatments each visit.
For long-lasting results at home in between salon visits, limit heat styling and invest in a silk or thermal protective spray before using hot tools.
5. Champagne Blonde
Giving hair subtle shine and depth like bubbly champagne, this pale blonde is universally flattering. Barbie rocks this light golden blonde color that brightens and illuminates her features. For fine or highlighted hair needing more luster, embrace the champagne blonde look with dimensional highlighting in pale gold and warm beige tones throughout. Use a toning shampoo for yellow brassiness every third wash.
How to achieve and maintain champagne blonde hair:
Lighten hair to a level 9 or 10 pale blonde with your colorist
Ask for multi-tonal highlighting in pale gold and beige
Shampoo with a purple toning shampoo periodically
Deep condition weekly for moisture
6. Ash Blonde
Imparting a cool, sophisticated edge is Barbie's ash blonde hairstyle. This platinum shade has a silvery sheen void of warmth. Achieve an ash blonde look by having your baseline lifted to a platinum blonde and then adding in chunky highlights that are one to two levels darker. A weekly purple shampoo maintains the cool blend without brassy undertones.
Tips for caring for ash blonde hair:
Shampoo with purple or blue shampoo up to twice weekly
Deep condition every 3-4 days with a moisturizing mask
Minimize heat styling and sun exposure as much as possible
7. Vanilla Blonde
Pale, creamy, and delicate like melting vanilla ice cream, this barely-there blonde is supremely glamorous. Take light blonde hair to vanilla territory with subtle balayage using tones one to two levels deeper like pale gold or ivory. For ashy hair, swap in a gloss treatment to catch golden flecks of color.
Learn more hair care tips here to baby delicate blonde strands.
8. Oatmeal Blonde
Warm yet grounded like oatmeal, this muted blonde shade gives hair a soft, lived-in look. For hair that's ashy or with broken bonds, a customized oatmeal blonde will bring back life and luster. Ask your colorist to add caramel and goldenrod balayage pieces throughout medium blonde hair for dimension. Finish with a nutritious hair masque for shine.
Products to maintain an oatmeal blonde:
Hydrating shampoo for moisture
Heavy duty conditioner treatment once weekly
Restorative hair mask every 2-3 weeks
9. Dirty Blonde
Effortless and sexy, dirty blonde hair has subtle golden flecks throughout an otherwise honey base. Weave peek-a-boo sandy blonde highlights with your dark blonde hair using a balayage technique. Ask your colorist to hand-paint strands with dimension in mind from root to tip. Use a moisturizing shampoo-and-conditioner regimen to avoid brassy tones.
Be sure to check out these on-trend blonde balayage ideas for more style inspiration!
10. Sun-Kissed Blonde
Radiant like a day at the beach, sun-kissed blonde hair emulates a natural golden glow. For medium brown hair, request face-framing highlights and a caramel balayage using toner pens to mimic summer sun exposure. Finish with a lightweight gloss for added illumination. You can also use a root spray or highlighting wax quarterly to refresh your sunkissed color.
Shades to ask for
Level of lift
Dark blonde
Caramel
Honey
6-8
Make enhancing regular hair masks part of your weekly routine to maintain vibrancy between visits.
11. Bronde Hair
A creamy fusion of blonde and brunette shades, bronde hair blurs the line between light and dark. For mousy medium brunette hair seeking dimension, request subtle bronde balayage with tones of caramel, butterscotch, and honey. The end result will illuminate your features in a multidimensional way. Be sure to gradually increase hydration as your hair is lightened.
Tag yourself if you love bronde hair transformations
12. Blondeberry Hair
Cool-toned and enchanting like blonde berry blossoms, this lilac-dusted blonde haircut is gorgeous for spring. For pale blonde hair in need of a revamp, add dilute violet and ash tones throughout with paintbrush balayage. Lean into these barely-there pastel pieces for a romantic vibe. Use a specially formulated shampoo without stripping PURPLES to maintain hue.
Be sure to deep condition weekly with a nourishing hair mask like one of these top-rated options- made for color-treated hair.
13. Blonde Cherry Topper
Delicate and sweet, cherry blonde highlights are like garnish atop blonde icing. To achieve this look, lighten the top layers of medium or dark blonde hair two levels lighter than the rest with a shadow root effect. Your stylist should hand paint the very top sections with cool-toned pinky-red highlights. Be sure to condition ends regularly to avoid split ends.
Home tips for cherry blonde upkeep:
Co-wash two to three times per week
Deep condition weekly with a protein-rich masque
Visit your colorist every 4-6 weeks for a glossing treatment
14. Shimmering Blonde
Gleaming like golden beach waves, shimmering blonde hair sparkles in the light. To transform non-porous brunette or dark blonde hair, request a creamy melting highlight using face-framing slices of 6 layers from dark roots to an illuminated beach blonde. Finish with a reflective gloss for a wet look that catches shadows.
15. White Blonde Hair
Ethereal and ethereal like fresh snow, white blonde hair commands attention. Temporarily lift hair to platinum using a non-permanent dye or lightening kit, or permanently lighten hair through multiple processing sessions with a colorist. For upkeep at home, purple and blue toning shampoos alongside deep conditioning weekly are essential to maintain iciness.
Visit your colorist every 4-6 weeks to refresh your white blonde color. Apply a smoothing hair mask to hydrate before new color applications.
16. Moonlight Blonde
Soft and resembling pale moonlight, this delicate blonde flatters fair skin. As an alternative to platinum, capture the luminosity of moonlight blonde color with subtle woven platinum pieces melded into an otherwise pale blonde base. Ask your colorist for face-framing dimensional slices using a 9V level bleach for highlights.
Show off your moonlight blonde hair with these 
17. Blonde Latte
Warm and cozy like your morning latte, blonde latte hair plays with toffee, caramel, and milk chocolate mixes. For mousy medium blonde strands seeking warmth, customize caramel balayage and hand-painted highlights throughout. Finish strands with a gloss to impart a creamy sheen.
Follow up with at-home toning using a cinnamon stick extract rinse for continued dimensions.
18. Platinum Blonde
Pure and iconic, platinum blonde hair is among the lightest shades. Have your hair lightened to a level 10 platinum base with a colorist before adding soft face-framing pieces. For upkeep, use frequent cooling violet shampoos and deep hydrating treatments. Visit your colorist every 4-6 weeks for a refreshing glaze.
Leave platinum hair to the pros – at-home lightening can damage strands.
19. Smoky Blonde
Sultry and smoldering, smoky blonde hair casts a seductive spell. Using a coloring technique like sunkissed balayage, have your medium blonde hair warmed throughout with clay, taupe, and ash brown pieces for subtle dimension. Finish strands with a glossing treatment for a finished look.
Be sure to visit your colorist every 4-6 weeks for toner touch-ups.
20. Blonde Bamboo
Fresh and naturally cooling is blonde bamboo hair. For bamboo blonde locks, lift dark blonde hair to a level 8-9 and ad sheer ash pieces throughout using a freehand highlighting method. Finish with a violet-based gloss for a cool-toned effect. Nourish strands weekly with a hydrating coconut water treatment.
Keep lustrous blonde bamboo hair fresh looking with a violet-based shampoo in your routine.
21. Blonde Marshmallow
Sweet and pillowy soft, blonde marshmallow hair imbues an ethereal vibe. Lift medium to dark blonde shades one to two levels lighter, then artfully blend in pastel pink, pearlescent white, and pale mauve pieces using a balayage technique for an otherworldly effect. Finish with a smoothing treatment to feel like marshmallows.
At home, follow with moisturizing deep conditioning hair masks.
22. Light Blonde Hair
Bright yet delicate, light blonde hair flatters all. For brightening dark blonde hair naturally, request face-framing and dimensional highlighting one to two shades lighter than the baseline using a freehand method. Strategically place brighter pieces at the hairline to lift features. Follow with a toning gloss and weekly violet-infused conditioning.
Check out these flattering light blonde hair color ideas.
23. Cloud Blonde Hair
Fluffy and impressions, cloud blonde hair adds volume. To puff up fine, limp hair à la cumulus, lift strands to a platinum 9-10 and backcomb throughout for root lift before setting. For longevity between visits, use a volumizing powder root booster. Massage into roots and scrunch for substance.
Spritz with a sea salt spray to texture further.
24. Tiramisu Blonde
Rich and sweet-tempted, tiramisu inspired hair plays with espresso, cocoa, and vanilla tones. For dark blonde strands seeking depth, ask your colorist to balayage throughout using chocolate, mocha, and caramel hues. Finish with a glossy shine glaze for a dessert-worthy look.
Maintain with at-home toning using coffee grounds.
25. Blonde Caramel Swirl
Decadent and complex, blonde caramel swirls lend hair crave-worthy dimension. To impart movement using a freehand technique, lift medium blonde hair two levels and swirl throughout combinations of butterscotch, praline, and salted caramel highlights. Use toning serum between visits to enhance variations.
Nourish weekly with a moisturizing coconut oil hair mask.
In Summary
From golden sun-kissed tones to complex caramel mixtures, there is a perfect blonde hue out there for everyone. With the right highlighting and low-maintenance care techniques, you can enjoy Barbie-worthy hair in natural or bright shades. Experiment to find your signature golden glow and don't be afraid to play with dimensional colors.
Let me know if you have any other questions! Be sure to check out our website for more hair inspiration and tips.
Conclusion
While Barbie popularized many iconic blonde shades over the decades, there are endless variations that can be customized to your individual style and hair type. The key is finding a colorist who listens to your preferences and is experienced working with blondes.
Be open to dimensional highlights that bring out natural lowlights. Also crucial is committing to a simple at-home hair care plan with regular protein treatments, deep conditioning, and toning or glossing products.
With the right professional coloring and gentle care regimen tailored to your needs, you too can rock head-turning blonde hair like Barbie. Don't be afraid to experiment – hair color is always changeable. Mix it up seasonally or stick to a signature shade you love. Overall have fun with blonde and let your light-filled locks shine through!
FAQs
Q: How often should I get my blonde hair touched up?
A: Most colorists recommend a tone or gloss every 4-6 weeks as blonds tend to fade faster than other colors. Every 8-12 weeks is sufficient for full color touch-ups.
Q: Is it damaging to lighten hair frequently?
A: Frequent lightening can cause damage if not done properly. Only lighten hair as needed under the guidance of a pro using Bonding/Olaplex treatments to minimize breakage.
Q: How do I keep my blonde looking fresh in between salon visits?
A: Use a violet shampoo, deep condition weekly, limit heat tools and sun exposure, and book routine glossing appointments.
Q: Can I lighten my own hair at home?
A: It's not recommended to lighten hair multiple levels at home safely. Consider hiring a pro for anything more than one-two shades lighter for best results without damage.